Wonderful wildlife on the Great Walks
Category: News
There's an abundance of wonderful wildlife across the Great Walks of Australia. Walkers may sight kangaroos, wallabies, wombats, echidnas and a huge variety of birds. Here are a few recently reported sightings that have us all excited about the season ahead…
First Sighting – Brushtail Possum – The Arkaba Walk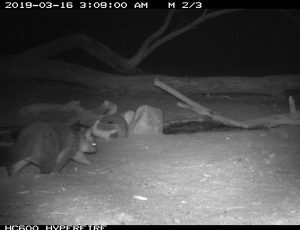 In March on The Arkaba Walk, the wildlife viewing hide's monitoring camera captured a Brushtail Possum coming to drink. Possums became extinct in the Flinders Ranges in the 1940s but following a reintroduction program in Wilpena Pound a couple of years ago, this animal felt safe enough to venture beyond the Pound and is Arkaba's first recorded sighting. This has only been possible with the feral management programs they have conducted in order to provide a safe environment for native species and to repopulate the landscape. Arkaba is also a member of the Australian Wildlife Journeys collection.
In a wonderful twist, this was a very fitting parting gift that the country provided for Arkaba's manager, Brendon Bevan, on his final day at Arkaba. Sadly (for the Arkaba team) Brendon and his wife Kat have headed to the Top End to experience another beautiful part of Australia while their children are young. The possum's reappearance at Arkaba bears testimony to his efforts to bring native species back to the Flinders. Brendon will continue to be involved in Arkaba's conservation as a consultant. Let's hope these sightings become more of a regular occurrence. Incredible!
Rescued – Western Ringtail Possum – Cape to Cape Walk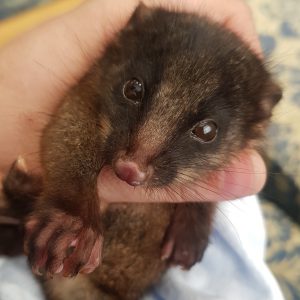 Did you know that the Cape to Cape Walk by Walk into Luxury is located within a World Biodiversity Hotspot? Much of the plant life and some of the wildlife in this region is not found anywhere else on earth.  The Western Ringtail Possum, pictured here, is endemic to the South-West of Western Australia and is sadly critically endangered. Recently a group of walking guests had the chance to rescue an orphaned ringtail possum they discovered alongside the track. After carrying this cutie back to their accommodation, he was placed into the care of the local wildlife service.  Saving orphaned and injured ringtails is part of the State's recovery plan for the species. It goes to show that you never know what you'll become part of on a Great Walks of Australia experience.
Sighted – Koalas – Spicers Scenic Rim Trail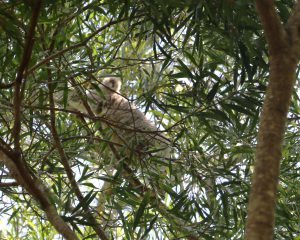 As the Spicers Scenic Rim Trail hits the trail for the season, some walkers have been very fortunate to see large koalas, particularly on Day 1 of the walk.  Having the Turner's Private Nature Refuge now bordering the Main Range National Park has aided the wildlife corridor that the team at Spicers Scenic Rim Trail have been working so hard on. Some of our great walkers will be in for a first-hand experience of these incredible creatures.
If you have photos or first-hand accounts of wildlife experiences on your great walk, we'd love to see/hear about them! Share them by tagging on Facebook and Instagram (#greatwalksofaustralia #mygreatwalk) or email eo@greatwalksofaustralia.com.au anytime.