On the Classic Larapinta Trek in Comfort by Australian Walking Holidays, you'll enjoy comfortable facilities in splendid isolation, and experience true bush tucker. Reflect on the dynamic landscape with walks that are as achievable as they are satisfying. The Larapinta Trail will delight the wilderness lover and challenge the seasoned hiker.
Ideal for the more ambitious walker, this walk has some challenging stages, passing over remote ridges and canyons that make up parts of the Larapinta Trail, walking up to 72km over six days.
Following in the footsteps of the land's traditional owners, early explorers and modern adventurers, the stories of the Larapinta Trail will come to life each day. Carrying only your day pack, walk with guides into the wild surrounds of the Australian outback and be captivated by the Larapinta.
Exclusive Accommodation
The Classic Larapinta Trek in Comfort, is a desert walk is enhanced with comfortable, exclusive, semi-permanent wilderness campsites: Nick Murcutt's Camp near Simpsons Gap, Charlie's Camp near Serpentine Chalet, and Camps Fearless and Sonder nestled under Mt Sonder. These campsites come complete with hot showers, a large kitchen and a heated dining tent, exclusive to Australian Walking Holidays' travellers on the Larapinta Trail. Set up for your arrival throughout the season, your professional support crew take care of the details like dinner, while you enjoy the diverse desert scenery.
Walkers sleep in spacious safari-style tents with thick off-the-ground foam mattresses that allow connection to the outdoors, whilst maintaining comfort levels. With large floor-to-ceiling windows and a deck at the front door, guests can bring the outdoors in – sit back and relax whilst enjoying the magnificent views of this area.
Guides will prepare all the meals, using quality Australian produce, and will run the camp with small elements of guest participation to add to your hands-on experience.
Committed to the Environment
To reduce the impact of trekkers on the environment, the campsites on the Larapinta Trail have specially designed composting toilets to ensure that no waste enters the environment. Showers and washing are based on a low-water-use system. Biodegradable soaps and shampoo are provided to reduce impact, the small amount of grey water is filtered and treated to ensure there is no effect on the arid soils. Solar lighting systems provide sustainable and reliable light; hot water is heated in an outback style 'donkey' water heater fired with gas.
All firewood is supplied from sustainable sources outside the National Park. All waste and rubbish are removed from the camps on a regular basis, and all food waste is composted. All bottles, cardboard and paper are recycled. Non-recyclable rubbish is disposed of in municipal waste.
Walk Overview
Accessed via Alice Springs, NT
Duration: 6 days / 5 nights
Distance: 72km
Grade: Moderate to Hard
Walk operates: April – September
Trail is rugged, rocky, desert and hilly
Group size: Max 16
Av. Km per day: 12 - 17km
Rates: AUD $3,585
View Itineraries
Reviews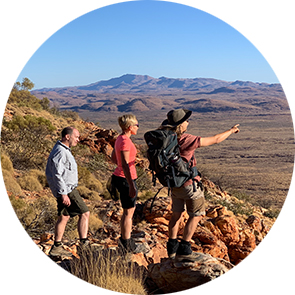 "Don't hesitate, DO it! I wanted an active holiday with spectacular scenery and I certainly got that! But I also got knowledgeable friendly guides who took care of our every need. Fantastic chefs who took pride in accommodating dietary requirements… I enjoyed the semi perm "camping" accommodation, it was a great setup and comfortable. Take the adventure!"
T. Smith, Victoria – Guest Review
Elevation Graph
This graph loosely depicts the gradient of the track, providing you with some basic understanding of how challenging the walk will be. The graphs are useful in helping you decide which walk suits you best. Whatever your ability or fitness, there's sure to be a walk that suits you in the Great Walks of Australia collection.

* Elevations are indicative only and are not to scale. Walkers should contact individual walk companies to better understand the terrain and difficulty of each walk.
Walk Itinerary

Day 1

Telegraph Station to Wallaby Gap (with walk to camp optional side trip)

Begin at the Alice Springs Telegraph Station, pass through witchetty bush and mulga scrub, over exposed hills and shady woodlands to Wallaby Gap. Camp in the exclusive semi-permanent Nick Murcutt's camp, nestled amongst the hills.

Day 2

Camp to Simpson's Gap, plus Standley Chasm and lookout Walk

Follow the trail west through magnificent, shady Bloodwoods and tall Ironwoods to Simpson's Gap, then make a visit to Standley Chasm.

Day 3

Serpentine Gorge to Counts Point

A day of hiking over high ridgelines, through forests, and along dolomite limestones toward our exclusive Charlie's Camp for a relaxing afternoon amongst the hills.

Day 4

Charlie's campsite to the Ochre pits

Take in the quietness and the vibrant colour of the Aboriginal quarry at the Ochre Pits. Retire in the early afternoon at the Finke River or at Glen Helen Resort (depending on your preferred walk option).

Day 5

Mount Sonder

Take the spectacular sunrise walk up Mt Sonder. Relax with a drink in the afternoon or even take an optional helicopter fight over the West MacDonnell Ranges.

Day 6

Ormiston Pound Walk

Enjoy extraordinary scenery and wildlife at Ormiston Pound, explore the upper reaches of the Gorge before heading back to Alice Springs.