A two hour flight from Sydney lies the UNESCO World Heritage listed Lord Howe Island, a slice of paradise that Sir David Attenborough said is "so extraordinary, it's unbelievable," and its highly acclaimed six day/six night Seven Peaks Walk.
Seven Peaks Walk is a step out of modern life to a place where the pace is slow, the nature is sublime, the adventure is high, the food and wine is superb, and your accommodation is light on the planet.
A favourite for experienced and adventurous hikers, Seven Peaks Walk invites you to climb to the islands impressive peaks and lookouts, and earn some of the best tropical views in the world.
Led by experienced guides, including former United Nations ecologist Luke Hanson, guests will relish exploring the extensive diversity on this walk. Lord Howe Island has so much to offer, and walkers will get to experience pristine beaches and exposed coral platforms, through subtropical palm forests, freshwater creeks, rugged sea cliffs and volcanic peaks, to the delicate mist forests on Mt Gower.
A few of the sections of the walk are off-track and require a steady head for heights, but alternate walks are also offered. Other sections of the walk take guests deep into Jurassic Park style banyan forests with the only rookeries of Providence petrels in the world.
Daily walk itineraries are determined on the basis of weather and group ability with options to split into two groups as needed. A sample itinerary will be provided and guests will be briefed on the Sunday night arrival, but flexibility is needed to explore the best parts of the island in the best conditions.
Seven Peaks Walk comprises of five days of walking, plus an extra free day with the option of a guided boat and/or snorkelling trips through the southernmost coral reef in the Pacific (all inclusive).
The walk is graded moderate to hard, and a strong level of fitness is recommended.
Exclusive Accommodation
At the end of each walking day, guests return to the casual, relaxed luxury of Pinetrees Lodge with ensuites, hot showers, sunset drinks and a four-course dinner (entrée, main, dessert and cheese).
We are very proud to say that in 2020 Pinetrees Lodge became Australia's first-ever certified carbon neutral hotel through the Australian Government's Climate Active Program. This means when you walk the Seven Peaks Walk, you can feel confident that sustainability values are at the heart of your journey.
Pinetrees Lodge is a favourite around the world and was ranked TripAdvisor's No.1 Hotel in Australia for 2017, 2018, 2020 again in 2023.
It is also one of the oldest family businesses in Australia and is famous for exceptional meals, personalised service, comfortable accommodation and a stunning beachfront location, perfect for afternoon drinks at the boathouse.
Committed to the Environment
Lord Howe Island is a UNESCO World Heritage Listed Island (since 1982) located 600km east of the NSW coast. It has wildlife to 'rival the Galapagos' and mountains with unique ecosystems.
Lord Howe has its own system of raising funds for conservation work. The Permanent Park Preserve is the core area of the World Heritage listing, funded through the Environment Levee of the Lord Howe Island Board which business operators contribute to.
Walk Overview
Accessed via Flights via Sydney or Brisbane
Duration: 5 days / 6 nights
Distance: 45km
Grade: Moderate to Hard (with options)
Walk operates: April & May, September - November
Bush trails, steep sections with ropes, rocks & beaches
Group size: Max 12
Rates: From $4658 per person twin share (excluding flights)
View Itineraries
Reviews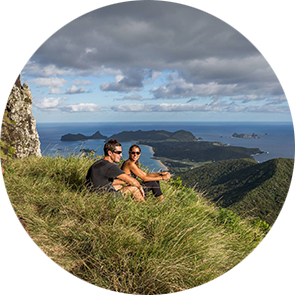 "Best vacation of my life... Lord Howe is like a secret undiscovered paradise. I almost hesitate to review it so the secret doesn't get out. Amazing beaches, fantastic snorkelling, and some tough hiking for those who want to earn the amazing food at Pinetrees… We did not miss our phones or wifi at all! Can't say enough about this place!"
Amy, Idaho, USA – Trip Advisor
Elevation Graph
This graph loosely depicts the gradient of the track, providing you with some basic understanding of how challenging the walk will be. The graphs are useful in helping you decide which walk suits you best. Whatever your ability or fitness, there's sure to be a walk that suits in the Great Walks of Australia collection.

* Elevations are indicative only and are not to scale. Walkers should contact individual walk companies to better understand the terrain and difficulty of each walk.
Walk Itinerary

Day One

North Bay – starting the day with a glass bottom boat cruise to North Bay, then a climb of North Head and Mt Eliza. Depending on conditions, walkers replace one climb with a trip to the Herring Pools from the Gulch, which is an amazing place, but only available on the low tide without swell. Guests then walk over Dawson Point to Old Settlement Beach and back to Pinetrees along the Lagoon foreshore.

Day Two

Malabar - climb to Kims Lookout and traverse the ridge between Kims and Malabar (two peaks). Descend the south ridge of Malabar to Neds Beach and have a swim or feed the fish. Then walk to Middle Beach and climb Transit Hill before returning to Pinetrees. This is a moderate trail with steps and rough ground. It offers spectacular views of the island.

Day Three

East Coast - walkers head to Mutton Bird Point and Rocky Run, and then climb to Goathouse on Mt Lidgbird – an optional walk which is steep, uses ropes and provides the most rewarding views of the island. Walkers then descend to Smoking Tree Ridge and climb Intermediate Hill to the new observation platform (funded by Dick Smith). Walkers return to Pinetrees via Blinky Beach.

Day Four

Water day (and rest day) - snorkelling trip on the outer reef (or an offshore snorkel adventure to the Admiralty Islands) followed by a kayak trip on the Lagoon. All optional – guests can choose their own adventure. Can be used as a weather day if earlier days are not favourable for walking.

Day Five

Mt Gower – this is the optional day for the advanced walker to climb Mt Gower at 867m. Stunning views await and a chance to experience the unique mist forest and bird rookery at the summit of this extinct volcano. Variations of this day are offered depending on the group ability. If people aren't up to the summit of Gower (and many won't be) then there is the option of the stunning Erskine Valley or an off-track adventure to some secret spots on Mt Lidgbird. All options take people along the Lower Road, which is one of the most spectacular 400m walking tracks in Australia.