Get ready for the trip of a lifetime on the Cradle Mountain Signature Walk (formerly known as Cradle Mountain Huts Walk) – a six-day, five-night adventure on the renowned Overland Track in Tasmania's UNESCO World Heritage Wilderness area.
One of Australia's premier multi-day walks, the Overland track is on the bucket list of many hikers and this is the ultimate way to experience it.
Over 65km, hikers explore spectacular and diverse terrain including mountain climbs, button grass plains, temperate rainforests, alpine meadows and open moorlands, and wander past lakes, rivers, tarns and waterfalls.
Wildlife encountered along the way may include wombats, paddymelons, echidnas and an array of birdlife. The area is also home to the Tasmanian Devil.
A side trip to Mt Ossa – the highest peak in Tasmania – is a highlight for many, and a beautiful 17km boat trip across Lake St Clair is the perfect way to celebrate the end of the journey, before returning to Launceston.
Enjoy walking in a small group, with a maximum group size of 12, and being led by friendly, highly experienced guides, who share their expert knowledge and insights about this rugged wilderness paradise along the way.
Exclusive Accommodation
At the end of each day, you'll wind down in the warmth and comfort of the only private accommodation on the Overland Track. These eco-lodges are discreetly located off the main trail, are exclusive to our guests, and offer hot showers, a drying room and twin-share accommodation.
Your guides will prepare an inspired three-course dinner each night while you sit back and relax with a glass of Tasmanian wine in front of the fireplace, unwinding from a big day with your fellow hikers in cosy comfort.
Walking in the seasons
This walk operates seasonally from October to early May each year. The weather conditions are prone to change at any time; sun, rain, wind and snow can be encountered at any time of year.
In the winter months, Tasmanian Walking Company also offers a select number of winter departures.
Equipment
Guests carry light packs with their clothes/belongings for the duration of this walk. A pack and rain jacket will be provided for you. A full packing list will also be provided to ensure your pack is as lightweight as possible.
Snowshoes and/or crampons are also provided if conditions require.
Walking poles are available for hire.
Committed to the Environment
Each hut on the track is operated under stringent environmental regulation and is designed with sustainable architecture to maximise ventilation, passive energy and other efficiencies.
The remote location of the huts demands that they are autonomous in terms of servicing. Rainwater is channeled off the roof into tanks and self-composting, and water-free batching toilets and phosphorous-free soaps are used. All waste water is separated through grease traps and sand filters and the residue is physically removed from site regularly, along with any other rubbish generated. Gas and solar are the only sources of power used for lighting, heating and cooking.
The provisioning of these huts is a unique procedure, once again due to their remote location. Twice each season, supplies of food, wine and gas cylinders are flown in by helicopter over a two-day period, while all garbage and waste matter is flown out. Nothing is left within the National Park.
Walk Overview
Accessed via Launceston, TAS
Duration: 6 days / 5 nights
Distance: 60km
Grade: Moderate to Hard
Walk operates: October – May
Bush trails, boardwalks, rocky areas, mountains + forests
Group size: Max 12
Rates: From AUD $3,995
View Itineraries
Reviews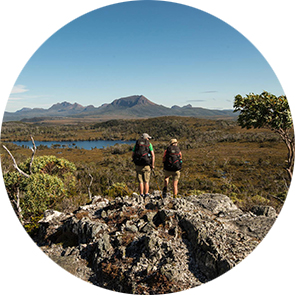 "Bliss... If you want to experience the Overland Track and feel like a rock star then get on the Cradle Mountain Huts train. Light packs, great accommodation, fantastic food, Professional with a capital P guides, and a wilderness like none before. Easily one of the top 10 walks on the planet!"
John, Sunshine Coast – Trip Advisor
Elevation Graph
This graph loosely depicts the gradient of the track, providing you with some basic understanding of how challenging the walk will be. The graphs are useful in helping you decide which walk suits you best. Whatever your ability or fitness, there's sure to be a walk that suits you in the Great Walks of Australia collection.

* Elevations are indicative only and are not to scale. Walkers should contact individual walk companies to better understand the terrain and difficulty of each walk.
Walk Itinerary

Day One

Waldheim to Barn Bluff Hut

Walk through ancient rainforest, enjoy spectacular views of Cradle Mountain, walk along the edge of a spectacular glacial cirque, and drop into Waterfall Valley before arriving at Barn Bluff.

Day Two

Barn Bluff Hut to Pine Forest Moor Hut

Travel across plains where glaciers once sat. Walk over plains of button grass, by the peaks of Cradle Mountain and Barn Bluff.

Day Three

Pine Forest Moor Hut to Pelion Plains Hut

A mix of long, slow descents and ascents, from the base of Mt Pelion West down to the Forth River and Lemonthyme Valley, to the beautiful Pelion Plains.

Day Four

Pelion Hut to Kia Ora Hut

Climb to Pelion Gap; a few hours of gentle downhill from the gap to the hut, with the option of various side trips for a more challenging day of walking.

Day Five

Kia Ora Hut to Windy Ridge Hut

Wander through old-growth forest, take lunch beside waterfalls, walk over Du Cane Gap then descend beside the spectacular Falling Mountain to Windy Ridge Hut.

Day Six

Windy Ridge Hut to Lake St Clair

Discover Lake St Clair, Australia's deepest natural lake, walk through cool temperate eucalypt forests, and take the spectacular 17-kilometre boat cruise back to Cynthia Bay. Return to Launceston via the highland lakes.