Located 1.5 hours south west of Brisbane, the all new Scenic Rim Trail is a five day, five night guided experience that pairs incredible natural beauty with spectacular accommodation.
Exploring the jaw-dropping scenic mountain ranges, volcanic plateaus and forests of Main Range National Park in the Scenic Rim and adjoining Spicers' nature refuges, walkers enjoy a rare opportunity to explore land previously only touched by Indigenous Australians and early pioneers.
The region is a treasure trove of unique plants, animals and distinctive vegetation, most notably the World Heritage Listed Gondwana Rainforest – some of the most ancient on the planet. It's also a feast for wildlife watching – wallabies, koalas are among the locals you'll have a chance to see, as well one of Australia's two species of rare lyrebird inhabit the region.
Relax In Comfort
The Scenic Rim Trail is a continuous through-walk with unique accommodation sites at each point of the journey. Experience Spicers' renowned 'relaxed luxury' with custom made beds, modern Australian design, all the creature comforts & luggage portered for you daily.
Night 1: Spicers Hidden Vale Retreat staying in beautifully appointed valley view rooms. A historic farm with a hatted restaurant.
Night 2: Mount Mistake Farmhouse by the edge of an escarpment. Each bedroom has an ensuite & the stone fireplace is where we gather.
Night 3: The Amphitheatre Eco Cabins are raised high off the ground connected by a boardwalk with shared facilities & cosy communal lounge.
Night 4: Nestled into the bushland Timber Getters Eco Cabins offers the same layout with a totally unique aesthetic. These state of the art cabins are built using industry leading sustainability techniques, which you will learn about.
Night 5: Hidden Peaks Cabins offers handcrafted timber slab huts each with their own ensuite and a unique mountain view.
Rates from $3,390 twin share for 5-nights. Single supplement available. Add on nights at Spicers Hidden Vale, Spicers Peak Lodge or Spicers Balfour Hotel can be arranged with a special Great Walks of Australia rate available. Transfers can be arranged & price is on request.
Committed to the Environment
Spicers' aim to create a walking experience that delivers a unique sense of relaxed luxury, existing in harmony with nature's beauty and the local surroundings. Their non-urban properties support biodiversity and sustainability. 90% of the freehold land is managed considerately to create a balance of ecotourism, livestock production and nature conservation. Only 10% is used as farmland.
Walk Overview
Accessed via Brisbane, QLD
Duration: 5 days / 5 nights
Distance: 60km
Grade: Moderate to Hard
Walk operates: March to November
Bush trails, rainforest, rocky sections, steep sections on day 2
Group size: Max 12
Av. Km per day: 13km
Rates: From $3,390 per person 5-day twin share or $4890 for a single room
View Itineraries
Reviews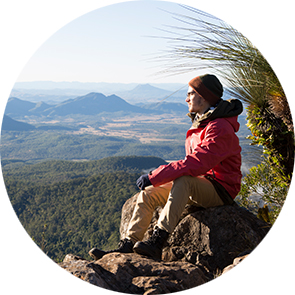 "What a privilege to hike this track. Walking through mystical World Heritage Listed rainforest - where few people have the opportunity to go. Guides were amazing. Hike was challenging (in a positive and rewarding way). Accommodation five star."
Elevation Graph
This graph loosely depicts the gradient of the track, providing you with some basic understanding of how challenging the walk will be. The graphs are useful in helping you decide which walk suits you best. Whatever your ability or fitness, there's sure to be a walk that suits in the Great Walks of Australia collection.

* Elevations are indicative only and are not to scale. Walkers should contact individual walk companies to better understand the terrain and difficulty of each walk.
Walk Itinerary

Day One

Start your journey at Spicers Hidden Vale Retreat.

Old Hidden Vale Station is a 12,000 acre property rich in history and conservation. Following lunch your first afternoon will be spent immersing yourself in the conservation activity as you join researchers on their daily koala monitoring. Following a tour of the onsite wildlife centre you will be transferred to your accommodation. Dinner with matched wines will be enjoyed as your guide provides you with a briefing for the journey ahead. Today is an arrival day with no walking.

Day Two

10km, approx. 4-5 hours, with 550m elevation gain, rock ladder & steep sections.

Following breakfast you will be transferred to the start of the walk with your backpacks, lunch & water pre-packed. You will feel energised as you walk up the Mistake Mountain Range, learning about the geology and volcanic history as you go. Open sclerophyll forest, sweeping views & wildlife spotting are on the agenda today. The endangered Brush-Tailed Rock-Wallaby is found in this region as are birds of prey that sweep the valleys below. An add on waterfall walk is available this afternoon for those who wish to add a little extra. Afternoon tea will be enjoyed at the Farmhouse with share style dinner & fireside drinks to be enjoyed afterwards.

Day Three

18km, easy to moderate, with approx. 8 hours on trail.

Wake up early and watch the sunrise, the Scenic Rim has one of the best vantage points in Queensland. After breakfast we'll be stepping across the border and into the Main Range National Park. Evidence of European history can be found along the trail as old logging equipment once discarded can be seen. You'll see and learn how logging changed this ecosystem and spot some remaining Red Cedar and Hoop Pine. As we venture further you will have your first encounter with Gondwana Rainforest as the canopy closes in around you.

Day Four

16km, moderate to difficult, with some steps approx. 8hrs on trail.

A shorter walk today, with vastly different terrain from the previous day. An exciting day spent mostly under rainforest canopy with two descents taking you down into Dalrymple Creek before a final climb into camp. The Scenic Rim is custodian to the largest area of rainforest in south east Queensland and you will get to experience it in all its glory. Many find the rainforest soothing and feel a sense of being restored. You'll learn about the subtropical environment that surrounds you & further appreciate its significance.

Day Five

16km, moderate. approx. 8hrs on trail.

A variety of diverse ecosystems will be explored today as we emerge from the rainforest, through montane heath and out to the ridge line where the most incredible views await us. The volcanic history of the region is easily spotted from this vantage point as you look back along the ridge line tracing where you've come. The walk to Mt Cordeaux and down through the final section of rainforest slowly awakens you as you learn how Cunningham Gap and the highway that runs through it was vital for connecting inland & coastal Queensland.