Nearly two decades in the making, the all new Scenic Rim Trail is a four day guided hiking experience that pairs mountainous sub-tropical wilderness, spectacular views, ancient rainforests and incredible accommodation in the Scenic Rim region, located one and a half hours of Brisbane in South East Queensland.
The Experience
Flaunting awe-inspiring views at every turn, the four-day Scenic Rim Trail takes guests along the Great Dividing Range and through the UNESCO World Heritage Listed Gondwana Rainforest, deeply immersing you in the treasure trove of Queensland's diverse and fascinating native fauna and flora.
Ascend the dramatic peaks, ridges and escarpments of the Main Range National Park from the Mistake Mountains in the north, to Cunningham's Gap in the south, in an area that contains more than 30,000 hectares of parkland, state forests and national parks.
Challenge yourself to take on 'The Ladder,' see incredible sunrises and sunsets, and experience Queensland's UNESCO World Heritage List Gondwana Rainforest – an unforgettable experience and opportunity to connect with one of the oldest rainforests on the planet.
The Scenic Rim Trail is also extraordinary for wildlife lovers; from koalas, to kangaroos and goannas, and an abundant array of birdlife, the walk is an endless parade of beings big and small who call the Scenic Rim home.
Travelling in small groups, guests are led by experienced, passionate guides, and stay in different accommodation each night, welcomed with a cool beverage, hot shower and delicious gourmet dinner at the end of each days walking,
Relax In Comfort
The Scenic Rim Trail is a continuous through-walk and also fully portered, with guests carrying only a day pack.
A journey designed to encourage you to unwind, connect and revive, Spicers renowned 'relaxed luxury' is offered throughout the walk, with exclusive accommodation, low-footprint, eco-friendly amenities, and sensational food and wine.
The walk starts from Spicers Hidden Vale – a stylish historic farm home with a multi-award-winning restaurant – traversing the Mountain Mistake mountain range, to night one's accommodation at Spicers Mount Mistake Farmhouse, perched on the edge of an escarpment.
The second and third nights are spent in state-of-the-art cabins, newly built using industry leading sustainability techniques. The Amphitheatre eco-cabins are raised high off the ground and connected by a boardwalk with shared facilities and a cosy communal lounge, while the Timber Getters eco-cabins offers the same layout with a totally unique aesthetic, built on a former historic logging site nestled into the bush.
The final night of the walk is at the newly refurbished Hidden Peaks Cabins – handcrafted timber slab huts each with their own ensuite and a unique mountain view.
Extend The Journey
An additional two day walk can be added to the Scenic Rim Trail to create a a complete experience. For those who would like to extend the journey, you will spend two extra nights at Spicers Canopy Luxury Tents, a glamping site with safari-style tents.
Transfers and extra nights at nearby Spicers Retreats can also be arranged to complete your trip.
Committed to the Environment
Sustainability has been a core focus of Spicers Retreats from the start and something they strive for every day. With a goal of zero net emissions and zero waste by 2030, they are continuing to find new ways to reduce their impact on the environment.
Their non-urban properties support biodiversity and sustainability; 90% of the freehold land is managed considerately to create a balance of ecotourism, livestock production and nature conservation, and only 10% is used as farmland.
Walk Overview
Accessed via Brisbane, QLD
Duration: 4 days / 4 nights
Distance: 60km
Grade: Moderate to Hard
Walk operates: February to November
Bush trails, rainforest, rock scrambles, rock ladder, steep sections and some grade five tracks
Group size: Max 12
Av. Km per day: 15km
Rates: From $3,999 pp four-night twin share or $5499 single
View Itineraries
Reviews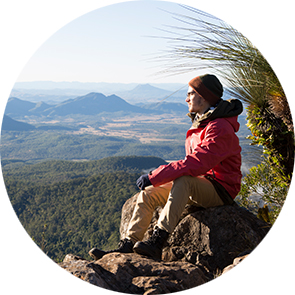 "What a privilege to hike this track. Walking through mystical World Heritage Listed rainforest - where few people have the opportunity to go. Guides were amazing. Hike was challenging (in a positive and rewarding way). Accommodation five star."
Elevation Graph
This graph loosely depicts the gradient of the track, providing you with some basic understanding of how challenging the walk will be. The graphs are useful in helping you decide which walk suits you best. Whatever your ability or fitness, there's sure to be a walk that suits in the Great Walks of Australia collection.

* Elevations are indicative only and are not to scale. Walkers should contact individual walk companies to better understand the terrain and difficulty of each walk.
Walk Itinerary

Day One

12km, moderate to difficult, 6-7 hours, grade 4 track, with 600m elevation gain, rock ladder & steep sections.

Meet your guides and fellow walkers at Spicers Hidden Vale - a 12,000 acre property rich in history and conservation. Setting out, you'll head for the Mount Mistake mountain range, passing through dry sclerophyll forest with sweeping views. Wildlife spotting is also on the agenda today; the endangered Brush-Tailed Rock-Wallaby is found in this region, as are birds of prey such as the Peregrine Falcon. Your accommodation tonight will be Spicers Mt Mistake Farmhouse. Arriving, afternoon tea will be served on the escarpment overlooking the valley below. Share style dinner is served before enjoying fireside drinks afterwards.

Day Two

18km, easy to moderate, 8 hours, mostly grade 3 track with some obstacles

Sunrise on the escarpment offers a beautiful start to the day. After breakfast, step across the border into the Main Range National Park. Evidence of European history can be found along the trail as old logging equipment once discarded can be seen. Learn how logging changed this ecosystem and spot some remaining Red Cedar and Hoop Pine. In the final portion of the day we walk deep into the rainforest on a private grade five track that takes us into camp at Spicers Amphitheatre - a purpose built eco-camp. On arrival, enjoy drinks and nibbles on the Amphitheatre viewing deck looking down into Kulgin Valley, before heading off for a warm shower and relax before dinner and drinks are served.

Day Three

16km, moderate to difficult, 8 hours, grade 3 - 5 track with some steps

Spend an exciting day mostly under the canopy of the World-Heritage-Listed Ancient Gondwana rainforest, enjoying the sounds of the birds as you walk. Half of today is on grade five track with the guides leading the way on the unmarked trails. We ascend down some rocky boulder sections that require you to go slowly, before arriving into Dalrymple Creek. The last section of the day offers a climb up to Spicers Timber Getters Eco camp where your hosts will be waiting to welcome you with drinks and a grazing platter for afternoon tea. Yet another delicious dinner will be served before retiring to your cabin with a tilt door that opens out into the bush.

Day Four

16km, moderate to difficult, 8 hours, grade 3 - 5 track

A variety of diverse ecosystems will be explored today as we emerge from the rainforest, through montane heath and out to the ridgeline where the most incredible views await. After a steep climb to the top of Bare Rock, we stop for lunch and look back at where we have just walked. From here we join the public trail to Mount Cordeaux and down through the final section of rainforest to Cunningham's Gap where a vehicle will be waiting to take you to Spicers Hidden Peaks Cabins. your final destination for the night where a special treat awaits. Enjoy a celebratory dinner, then sit by one of the two outdoor fire pits with your fellow walkers to share stories of your adventures. The next morning you will have a BBQ breakfast before being transferred back to Spicers Hidden Vale by vehicle. There is the option to upgrade to travel in style with a helicopter transfer, where you will re-trace the trail from the sky.