Discover the Great Ocean Road's spectacular geological icons, the Twelve Apostles, and its little-discovered surrounds on the four day, three night Twelve Apostles Signature Walk (formerly known as Twelve Apostles Lodge Walk).
The walk covers the last 46km of the The Great Ocean Walk and takes you along the rugged 'shipwreck' coastline with its wild beaches, as well as into into its beautiful national parks, The Great Otway National Park and the Port Campbell National Park,  for some incredible and diverse wildlife viewing.
There are few better places to see Australian wildlife first-hand than on the Great Ocean Road and the Twelve Apostles Signature Walk. The trail is alive with native flora and fauna: birds, fur seals, wallabies, koalas, and many plant species unique to this special corner of the world.
You'll also learn about the land through the eyes of the first Australians and this special land, as well as the British convicts transported here on ships over 200 years ago, with shipwrecks that litter the coastline full of tales of love and loss.
The walk ends with a short helicopter flight over the 12 Apostles (weather pending) for those that would like to, to view the trail and the Apostles by air.
Exclusive Accommodation
This is a lodge-based walk, with walkers carrying only a day pack and unwinding each night with creature comforts in our private eco-lodge, exclusive for your use.
Located at Johanna Beach, the mid-point of the trail. Walkers stay in eco villas with en-suite bathrooms, fresh linen and hot showers.
Sustainably designed and constructed, the lodge features many hiker-friendly facilities such as a drying room, foot spas, and gear hire.
Fabulous regional food and a selection of Victoria's best wines are on the menu, with healthy meals prepared each fresh each day to fuel your walk. Dietary requirements can be catered for with advance notice in booking.
The Twelve Apostles Signature Walk is graded overall as moderate with easy and challenging sections along the way. The elevation changes from sea level to near 300 metres across the trail.  It is a well-formed track from east to west, with stone stairs installed on many of the steeper sections to make elevation changes easier.
With walking groups no larger than 10 hikers at a time, this an intimate way to experience one of the great coastlines of the world.
Walk Overview
Accessed via Melbourne, VIC
Duration: 4 days / 3 nights
Distance: 46km
Grade: Moderate
Walk operates: September - May
Trail is open grassland cliffs and beaches
Group size: Max 10
Av. Km per day: 15km
Rates: From AUD $2,295
View Itineraries
Reviews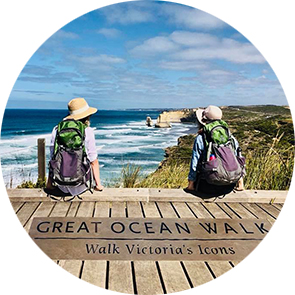 "Wow! Everything I hoped for and so much more. I travelled on my own, and was not disappointed… The team really cater for everything with a beautiful lodge, warm foot spas to soak our tired feet, spectacular meals... The whole trip was amazing - views are spectacular… If you're considering 12 Apostles Lodge Hike - book now!"
Elevation Graph
This graph loosely depicts the gradient of the track, providing you with some basic understanding of how challenging the walk will be. The graphs are useful in helping you decide which walk suits you best. Whatever your ability or fitness, there's sure to be a walk that suits in the Great Walks of Australia collection.

* Elevations are indicative only and are not to scale. Walkers should contact individual walk companies to better understand the terrain and difficulty of each walk.
Walk Itinerary

Day One

Castle Cove to Johanna (lodge walk-in)

Transfer from Melbourne to the lodge and then begin your walk at Castle Cove. With sheer cliffs dropping to sapphire ocean, rough grass-tree forests, wild flowers, followed by breathtaking Johanna Beach you will struggle to choose a favourite part of today (option to walk into the lodge).

Day Two

Milanesia to Moonlight Head

Country lane walking that is the highest point of the whole trail. Here begins the 'Wild Side' – dramatic changes in elevation deliver wild and remote Southern Ocean views. You will understand today why this shoreline became known as the Shipwreck Coast.

Day Three

Moonlight Head to Princetown

Another remote and beautiful beach - Wreck Beach - can be wild or mild depending on Mother Nature's wishes. See anchors embedded into the sea rocks and traverse coastal heath forests for your first glimpses of the Twelve Apostles.

Day Four

Princetown to The Twelve Apostles

These coastal pillars reveal a little more with each undulation until finally the Twelve Apostles fill your frame. Take advantage of the exclusive walker photography platform.