Travel in the footsteps of the Oyster Bay Tribe, on the Freycinet Experience Walk in Tasmania, walking the same ancient bush tracks trodden some 30,000 years ago. Here, you'll discover diverse marine and wildlife, nesting lagoons, wildflowers and other unique flora and fauna.
The Freycinet Experience Walk is a four-day immersion into one of the most stunning coastal wilderness areas on earth.
The ethos of this walk is simple – serve up the best that nature has to offer.
Led by engaging and knowledgeable guides, go by boat into rthe emote and rarely explored corners of the Freycinet National Park before continuing on by foot for a day of blissful hiking. Choose between challenging mountain climbs or more leisurely coastal routes before regrouping at the end of the day.
You'll also travel light, needing only a day-pack to carry your camera, jacket, and lunch.
Each day's walk has been selected to bring guests to the most beautiful parts of the Freycinet Peninsula. Wineglass Bay is voted regularly by travel authorities as one of the world's best beaches. The majority of the walks are off the beaten track, so you'll rarely see another soul outside of your walking group, apart from the walk out on day two from Wineglass Bay.
Exclusive Accommodation
On the Freycinet Experience Walk, you will return each night to the barefoot luxury of the award-winning Friendly Beaches Lodge, enjoy the stunning architecture, friendly service and private rooms with comfortable beds.
Situated on a 130-hectare private sanctuary, the lodge is surrounded by the Freycinet National Park; the location and seclusion is sublime.
Exclusively for the use of the walking group (maximum ten guests), the uncomplicated luxury of the lodge has remarkable powers of rejuvenation. A fine collection of artworks by prominent Tasmanian artists and a well-stocked library enhance your experience.
Your friendly hosts will provide delicious meals using the best of Tasmanian produce; freshly caught flathead, local oysters, handmade chocolates, fresh fruit and premium Tasmanian wine and cheese.
Committed to the Environment
Friendly Beaches Lodge is one of Australia's premier eco-lodges, deemed ahead of its time when first built. The lodge sits lightly on the surrounding forest, and is completely off-grid, employing solar power and its own rain water supply to ensure disturbance to its surrounding environment is minimal.
Built entirely from local timber (eucalyptus obliqa), the lodge is a building of timeless sophistication.
In addition to the lodge itself, Freycinet Experience Walk has been a co-sponsor of the WILDCARE Tasmania International Nature Writing Prize for over six years. They also donate to Environment Tasmania and the Tasmanian Devil Appeal.
Walk Overview
Accessed via Hobart, TAS
Duration: 4 days / 3 nights
Distance: 37km
Grade: Moderate
Walk operates: October – April
Bush trails, beaches and sand walking
Group size: Max 10
Rates: From AUD $3,150
View Itineraries
Reviews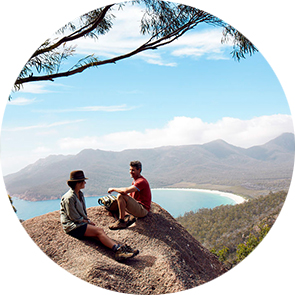 "I reluctantly divulge this piece of paradise… Wineglass Bay reminds me of the best lakes in Europe except it's a bay in the sea. The place is heaven - miles of empty beaches, translucent seas, and what great hosts!… the food was exquisite. I've traveled around the world and the best place seems to be on my own doorstep. Just do it."
Jeremy, Killara – Trip Advisor
Elevation Graph
This graph loosely depicts the gradient of the track, providing you with some basic understanding of how challenging the walk will be. The graphs are useful in helping you decide which walk suits you best. Whatever your ability or fitness, there's sure to be a walk that suits in the Great Walks of Australia collection.

* Elevations are indicative only and are not to scale. Walkers should contact individual walk companies to better understand the terrain and difficulty of each walk.
Walk Itinerary

Day One

Coles Bay to Schouten Passage

After travelling from Hobart we arrive at Coles Bay where we board a boat to see Schouten Passage (weather permitting) and land at Schouten Island. After lunch, walk up Bear Hill for magnificent views. Return to Coles Bay by boat and onto Friendly Beaches Lodge at the end of the day.

Day Two

Bryan's Beach to Wineglass Bay or Cook's Beach to Mt Graham

Take a peaceful walk from Bryan's Beach through sclerophyll forests and along beaches. Or, take the more challenging walk to the top of Mt Graham, descending to Wineglass Bay via spectacular Quartzite Ridge. Both walking groups meet on this iconic beach and walk out together before returning to the lodge.

Day Three

Bluestone Bay to Friendly Beaches

Explore the fascinating geology of White Water Wall and Little Bluestone Bay, and climb to the Bluestone Bay cliff tops. Walk back over a track used by the ancient Oyster Bay Tribe. This is a private trail so you won't see other people on this very special day.

Day Four

Mt Mary to Hobart

Walk along the fossil-rich ridgeline of Mt Mary and descend to Saltwater Lagoon. Then take an easy stroll along the beach to Isaac's Point, before taking the transport back to Hobart.