The Arkaba Walk by Wild Bush Luxury takes you on a journey of 600-million years of geological history.
Departing from Wilpena Pound on day one, you'll be escorted by Arkaba's field guides whose passion is in opening up the secrets of the country and reconnecting you with the bush.
This amazing story echoes through the stratified layers of Wilpena Pound and the Elder Range, providing spectacular backdrops throughout the walk. Craggy sandstone bluffs and dry creek beds lined with River Red Gums offer a quintessential outback landscape.
Arkaba's own conservation management programs offer interested guests the chance to learn about protecting, managing and rewilding Australia's unique and diverse environment.
Large numbers of Red and Western Grey kangaroos, wallaroos and emus are regular sightings along the walk, and the country is littered with the stories, and often heroic failures, of early pioneers who tried to make a living from the harsh but beautiful country.
Walk Transfers – fly or self-drive
Enjoy the simplicity of a charter flight from Adelaide directly into Hawker with a 45 minute connecting road transfer to Wilpena Pound. Enjoy a packed breakfast before starting your walk.
The Arkaba Walk departing from Arkaba Heritage Homestead remains an option on all departures for those who prefer to self-drive. Self-drivers also have the option of a scenic helicopter flight (cost additional) at the end of their walking adventure which is not available on walks departing from Adelaide.
Exclusive Accommodation
The accommodation for this journey has been designed to connect you to the surrounding country.
Spend your night prior to the walk's official start at Arkaba Homestead, a member of Luxury Lodges of Australia.
Arkaba's signature 'star beds' offer you the chance to sleep out under millions of stars (or within sheltered bush huts if preferred). Arkaba's incredible topography presents spectacular panoramas of Wilpena Pound and the Elder Range, particularly in the evening as the ranges glow with the rich red light of sunset.
While spending your days immersing yourself in the stories, both natural and human, of this region, the 'Wild Bush Luxury' touches (hot showers, a cold drink, canapés, comfy swags and hot water bottles) appear on arrival in camp in late afternoon.
Evenings are spent around the campfire, indulging in a three-course camp dinner, with a selection of fine South Australian wines, before retiring to your deluxe swag for a well-earned rest and the sounds of the bush all around you.
The final night of the walk is spent at Arkaba Homestead once again, where you can unwind from your adventures and treat yourself to an optional creekside massage upon arrival.
Committed to the Environment
Arkaba's vision is to blend tourism and conservation in a virtuous circle where the proceeds of tourism are invested in the protection of Arkaba's 63,000 km private nature conservancy. The removal of sheep and four years of feral management have seen successful control of fox, feral cat and goat numbers and the results are to be seen and heard with the return of native bird, mammal and reptile species to the area. Guests will learn of the various conservation management programs that the Arkaba team are involved in and will see the GPS marking and camera monitoring work that the guides engage in during the walk.
The Arkaba Walk and Wild Bush Luxury have a conservation partnership with the The Long Run and Australian Wildlife Conservancy.
Walk Overview
Accessed via Adelaide, SA
Duration: 4 days / 4 nights
Distance: 45km
Grade: Moderate
Walk operates: March - October
No fixed trail, rocky terrain (scrambling), open hill country
Group size: Max 10
Rates: From AUD $3,500
View Itineraries
Reviews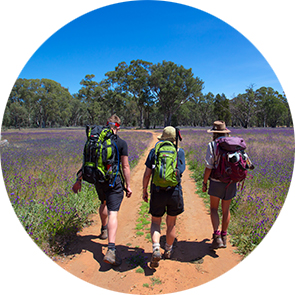 "The walk draws on the amazing nature of the Flinders and Wilpenna - a rolling series of changing landscapes from gums to paper bark to cypress to open grasslands to rockeries of grass trees.... It's good for the soul and the legs…great food and outstanding guiding, culminating in a night at the old homestead… truly a great walk of Australia. Boots on and do it!"
Syzn, Sydney – Trip Advisor
Elevation Graph
This graph loosely depicts the gradient of the track, providing you with some basic understanding of how challenging the walk will be. The graphs are useful in helping you decide which walk suits you best. Whatever your ability or fitness, there's sure to be a walk that suits in the Great Walks of Australia collection.

* Elevations are indicative only and are not to scale. Walkers should contact individual walk companies to better understand the terrain and difficulty of each walk.
Walk Itinerary

Day One

Arkaba Homestead to Black's Gap Camp

Enjoy a relaxing night at Arkaba Homestead the night prior to the walk commencing. The walk officially starts the following day, traversing the basin of Wilpena Pound before crossing onto Arkaba's private conservancy and descending to Blacks Gap Signature Swag Camp.

Day Two

Black's Gap Camp to Elder Camp

A challenging hike through creeks and broken country approaching the foothills of the Elder Range to Elder Camp.

Day Three

Elder Camp to Arkaba Heritage Homestead

Walk across varying terrain through Mallee and cypress forests before ascending the beautiful Red Range for views across the neighbouring ranges and crossing Arkaba Creek to arrive at the Arkaba Homestead. On arrival at Arkaba Homestead reward yourself with a creekside massage (optional extra).

Day Four

Scenic road transfer to Adelaide

Depart Arkaba Homestead after breakfast at 8:30am for a scenic transfer through charming outback towns with wine tasting and lunch in the Clare Valley wine country. Arrive Adelaide Airport at 5pm to meet onward flights departing from 6pm.