A boat voyage, dolerite spires and 37,000 years of history form part of the Three Capes Signature Walk experience. Guests settle in each evening to our architecturally-designed in-park lodges and enjoy Tasmania's finest eats and drinks on this 46km walking adventure over four days.
Tasmanian Walking Company is the only guided walking company authorised by the Tasmanian Parks & Wildlife Service to offer the Three Capes Track and stay within the national park each night.
Exclusive Accommodation
Guests can look forward to relaxing in two beautiful new architecturally-designed, in-park eco-lodges and enjoying Tasmania's finest eats and drinks to revive and refresh each night.
Simple yet sustainable, comfortable and inviting, these lodges are the only private accommodation within the Tasman National Park.
The lodges are positioned off the trail in discreet locations, whilst their design responds to the contours of the land. Walkers will enjoy hot showers, generous lounge areas and plush pillows on comfortable beds.
Committed to the Environment
Tasmanian Walking Company considers it a great privilege to provide the only private lodging along this trail and have taken every environmental consideration during the design and build process. The lodges rest lightly within the natural environment.
Sustainability features include water-recycling showers, Ornilux bird glass and the latest solar power technology. Bird-friendly Archimedes wind turbines bolster their renewable energy resources.
They have also worked closely with the topography of the land – each lodge aligning to contours of the existing landscape. This not only has minimised the impact on the surrounding vegetation but allows the accommodation to blend into nature's setting.
Walk Overview
Accessed via Hobart, TAS
Duration: 4 days / 3 nights
Distance: 48km
Grade: Moderate
Walk operates: Year round
Boardwalks, stonework & dry trails through forest/bush
Group size: Max 14
Av. Km per day: 12km
Rates: From AUD $3,395 twin share
View Itineraries
Reviews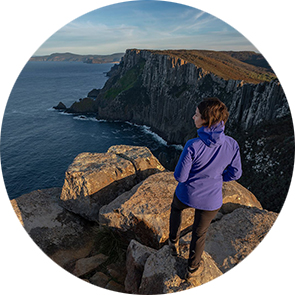 "Truly superb... The hike varies from easy days to long days but the location, views and serenity is Australia at its best. Meals were 10/10.... The guides were just sensational... From the walk, guiding, pristine nature, amazing accommodation and food, it's exceptional value for money. It is Australian tourism at its very best... 10/10."
AJP, Sydney – Trip Advisor
Elevation Graph
This graph loosely depicts the gradient of the track, providing you with some basic understanding of how challenging the walk will be. The graphs are useful in helping you decide which walk suits you best. Whatever your ability or fitness, there's sure to be a walk that suits in the Great Walks of Australia collection.

* Elevations are indicative only and are not to scale. Walkers should contact individual walk companies to better understand the terrain and difficulty of each walk.
Walk Itinerary

Day One

Hobart to Crescent Lodge

Walkers depart Hobart in the morning and upon arrival at Port Arthur Historic Site, make their way to the jetty where a private boat will depart for Denman's Cove at 1.15pm. Cruising beyond Port Arthur, aside from possible seal and dolphin sightings, some of the highest dolerite cliffs in the Southern Hemisphere come into view as an indication of the drama to come. In Denman's Cove, walkers enjoy local produce for lunch, in preparation for a gentle walk through coastal woodland to the rocky refuge of Surveyors Cove. If the Southern Ocean allows, guests can take a swim before a gradual walk up to the lodge. Home for the night, Crescent Lodge is perched high, with far stretching views across Crescent Bay to Cape Raoul. After hot showers, the guides-come-chefs prepare a three-course feast of local Tasmanian gourmet food. Post dinner, walkers are welcome to take a Tasmanian wine to a quiet deck for their own private sunset and to reflect on their first day. Distance – 6km (two hours walking)

Day Two

Crescent Lodge to Cape Pillar Lodge

Waking to the silence of Crescent Lodge, guests will smile as they hear the crackling of a cooked breakfast. From the lodge, the walking group head due south to enjoy views across Safety Cove and Maingon Bay to Bruny Island. Climbing Arthurs Peak, 300m above sea level, is truly worth the rewarding ocean vista. Here White Bellied Sea Eagles soar in the thermal currents so this too could be an added bonus to the walk experience. Lunch follows an easy downhill descent to south-facing cliffs where pelagic seabirds are aplenty - albatross, petrels and gannets. Here, there's nothing between you and Antarctica. Look far and wide. Following lunch, walkers skirt the edge of Tornado Ridge before heading south toward Cape Pillar Lodge, home for the next two nights. Sometimes people pick up the pace knowing that there is an optional massage, facial or relaxation bath on offer at the lodge too. Distance - 11km (five hours walking)

Day Three

Cape Pillar Lodge Return

This is the most adventurous day on this Great Walks of Australia experience. Walkers head through silver gum forest (Eucalyptus Tenuiramis), a species endemic to the area, out to the highest sea cliffs in the Southern Hemisphere. There's little wonder Cape Pillar has been afforded other names – Hurricane Heath and Desolation Gully. A side trip to The Blade is a must, with staggering views across to Tasman Island. It's then a direct return journey home where the relaxation pavilion, three-course dining and ocean views await. Those with a penchant for pampering can forego today's walk and spend the day at the lodge if they choose. Enjoy one of our relaxing treatments and immerse yourself in the enchanting surrounds. Distance - 15km (6 hours walking)

Day Four

Cape Pillar Lodge to Fortescue Bay

First up is crossing Retakunna Creek (local indigenous dialect for creaking trees) enroute to a patch of rainforest. Next mission is the peninsula's highest peak, Mount Fortescue, climbing 490m above sea level. Take the side trip and enjoy the majesty of Cape Hauy – or take the final cliff-walk descent onto the cool white sands of Fortescue Bay where there is the opportunity to swim. After some canapés and a glass of sparkling wine, transfer back to Hobart via Port Arthur and the airport. Distance - 13km (6 hours walking) with optional Cape Hauy side trip (distance 4km return)