The Cape to Cape Walk in Margaret River is a fully guided small group walk, combining the best walking on the Cape to Cape track with once in a lifetime food and wine experiences and deluxe accommodation.
Breathe deeply and relax into four days of blissful walking in the magnificent Margaret, a paradise of endless shorelines, coastal heaths and lush forests that invigorate and restore those that come to explore.
You'll discover stunning headlands, some of the world's best beaches, limestone caves and wander under the magical canopy of WA's Karri forests – some of the tallest species of trees in the world – along the way.
Hiking next to the Indian Ocean, opportunities to swim in the crystal blue waters and gorgeous rock pools abound throughout the day to refresh as you hike.
Exclusive Accommodation
This is a lodge based walk, where guests return each day to stay at an exclusive beachfront property, Injidup Spa Retreat, for the duration of the walk.
This intimate coastal retreat provides the kind of tranquillity and privacy that is difficult find. Relax in private villas with uninterrupted ocean views, and private plunge pools overlooking the national park.
There is also a spa retreat plus a communal area for Great Walks of Australia guests to use for group dinners.
It's a perfect spot to experience the sunset over the Indian Ocean, preferably while enjoying a glass of Margaret River wine from your private bar of select wines.
Committed to the Environment
Walk into Luxury holds Advanced Eco Tourism Certification, which means they are committed to operating a sustainable tourism business and protecting the pristine environment in which they operate.
They are passionate about helping safeguard the Cape to Cape Track for future generations, which they do through their 'giving back program' and by volunteering staff time. The team has officially 'adopted' a section of the track which they regularly maintain and 5% profit from every walk sold is invested in caring for the track and supporting worthy local organisations. This is part of the Friends of the Cape to Cape Track program.
Walk Into Luxury is also certified as a carbon neutral business.
Walk Overview
Accessed via Margaret River, WA
Duration: 4 days / 3 nights
Distance: 41km
Grade: Moderate
Walk operates: Mar to Jun & Sep - Nov
Trail is a mix of beach walking + cliff top, bush & forest trails
Group size: Max 12
Av. Km per day: 6-14km
Rates: From AUD $3150
View Itineraries
Reviews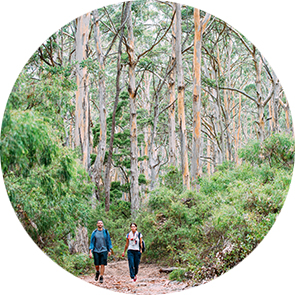 "Superb accommodation...The private chef dinner was another highlight. But of course the major star of the show was the incredible south west coastline of the Cape to Cape walk. We saw dolphins, whales and the bluest of blue water. We swam at Meerup, walked the Karri forest and enjoyed the mix of terrains along the coastline… Highly recommended!"
Carolyn, Melbourne – Trip Advisor
Elevation Graph
This graph loosely depicts the gradient of the track, providing you with some basic understanding of how challenging the walk will be. The graphs are useful in helping you decide which walk suits you best. Whatever your ability or fitness, there's sure to be a walk that suits in the Great Walks of Australia collection.

* Elevations are indicative only and are not to scale. Walkers should contact individual walk companies to better understand the terrain and difficulty of each walk.
Walk Itinerary

Day One

A three-hour walk from Smiths Beach to Injidup Spa Retreat, home base for the three-night walk experience. This 6km walk day includes an opportunity to swim at 'The Aquarium', a secluded rock pool area with crystal clear waters. On arrival, walkers enjoy welcome drinks and the day ends with a feature dinner off-site showcasing local Margaret River produce and wine.

Day Two

A 14km walk from Cape Naturaliste lighthouse to surf mecca, Yallingup, with impressive Sugarloaf Rock, several surf breaks and clifftop vistas marking this section of track. After a challenging day on the track, guests unwind with an in-villa meal on their terrace as the sun sets over the Indian Ocean.

Day Three

Arguably the most stunning part, this 13.5km of track covers a diverse mix of pristine white sand beaches, limestone cliffs, and towering karri forest. The final night at Injidup Spa Retreat is a highlight, with a private chef preparing dinner with fresh local produce matched to premium local wines.

Day Four

Guests enjoy an 8km walk to the Willyabrup Sea Cliffs this morning, before a celebration lunch with matched wines at award-winning local winery, Wills Domain.