On the Maria Island Walk, you'll explore a heritage listed convict settlement, walk empty white-sand beaches, view rare wildlife, and enjoy gourmet food, all within a national park. Maria Island National Park lies just a few kilometres off Tasmania's east coast, within easy reach of Hobart.
The Maria Island Walk is an active, but relaxing, holiday experience. It is designed to let you experience the remoteness and tranquillity of a wilderness experience in comfort. This is a soft adventure, where the packs are light, the food is gourmet, the wine is Tasmania's best, and a comfortable bed awaits you each night.
Walking groups comprise of ten guests with two professional guides. This ratio affords the personalised, intimate experience that the walk has become so well known for. Unlike other more challenging wilderness hikes, this walk is not too demanding. Pristine beaches and formed bush tracks mean you don't need to be an experienced hiker to enjoy this walk.
Walking in the Seasons
This great walk operates seasonally from October to the end of April each year. In the winter months, the Maria Island Walk offers a 3 day/2 night Winter Escape Experience. In groups of up to eight guests, two knowledgeable and friendly guides will show you the island's beauty, history an amazing wildlife. Please contact the walk directly for departure dates.
Exclusive Accommodation
At the end of each day, you'll retire for the evening in one of two secluded wilderness camps, both a stone's throw from empty, white-sand beaches. These beaches are the perfect place to unwind with a glass of wine, enjoy a barefoot stroll exploring for rare shells, or a swim in the clear waters.
The concealed camps are comfortable, aesthetically pleasing and environmentally conscious. Enjoy nightly, candlelit three-course meals, comprising fresh local produce, complemented by fine Tasmanian wine.
On the final night, you'll stay overnight in a heritage house in Darlington, a UNESCO World Heritage site nestled on the northern tip of the island that was once a bustling penal settlement with over 600 convicts.
"Pack Free" Experience
For those walkers who prefer not to carry the normal 5-8 kg pack, The Maria Island Walk offers a "pack-free" experience, where guests' gear is transferred between camps each day so they only carry their lunch, water bottle, camera and rain jacket. This additional portered service is offered on select departures and private group departures for a rate of $200 per person.
Family Friendly Departures
Get back to nature as a family, learn about flora and fauna and have an adventure along the way.
Family friendly departures are for families who have children under the age of 12 years old.
8 years old is the recommended minimum age for family friendly walk departures. Parents should contact us to discuss the children's fitness levels and if they have done much walking before.
The best time for family friendly walks is during school holidays, mainly in early January whilst parents and children are both on holidays.
The porter service is highly recommended for family friendly walks. Families will only have to carry a water bottle, rain jacket and lunch box. Having a light pack will make the walk more enjoyable for everyone.
Committed to the Environment
The Maria Island Walk is committed to the environment, and actively supports a variety of conservation programs such as the Forty Spotted Pardalote Recovery and Save the Tasmanian Devil programs. This walk experience is also a member of the Australian Wildlife Journeys collection.
Maria Island Walk And Saffire Freycinet Package
Extend your Great Walk Of Australia on Maria Island and enjoy some more of the east coast's breathtaking beauty and luxury at Saffire Freycinet.
Guest can combine the 4-day award winning Maria Island Walk with a 2-night stay at the luxurious Luxury Lodge of Australia, Saffire Freycinet. On the final day of the walk, transfer direct to Saffire Freycinet either by chartered plane, helicopter, Saffire Freycinet executive transfer service or private car hire.
Walk Overview
Accessed via Hobart, TAS
Duration: 4 days / 3 nights
Distance: 25km - 43km
Grade: Easy to Moderate
Walk operates: October – April
Bush trails with beaches and sand walking
Group size: Max 10
Rates: From AUD $2,550
View Itineraries
Reviews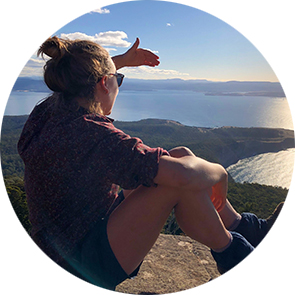 "Congratulations Maria Island Walk team! You delivered far more than we expected… The walks were stunning, the scenery varied, with treks through forest, beaches, plains and hills. Abundant, almost tame, wild life reminded me of the Galapagos. We saw the cutest wombats (some with babies in pouch), pademelon, wallabies… A top experience, and one we won't forget."
Helena G, Sydney – Trip Advisor
Elevation Graph
This graph loosely depicts the gradient of the track, providing you with some basic understanding of how challenging the walk will be. The graphs are useful in helping you decide which walk suits you best. Whatever your ability or fitness, there's sure to be a walk that suits in the Great Walks of Australia collection.

* Elevations are indicative only and are not to scale. Walkers should contact individual walk companies to better understand the terrain and difficulty of each walk.
Walk Itinerary

Day One

Triabunna to Haunted Bay

Travel by boat through the sparkling waters of Mercury Passage to the isthmus of Maria Island, and walk to the tranquil Casuarina Beach camp. Explore the tall eucalypt forest on the way down to the spectacular Haunted Bay.

Day Two

Haunted Bay to White Gums Camp

Walk along five beautiful beaches; look out for dolphins, sea eagles and exotic shells. By late afternoon, arrive at White Gums Camp for a refreshing swim.

Day Three

White Gums Camp to Darlington

Head inland to the heart of the Island. Wander through giant Tasmanian blue gums, climb mountain peaks, and settle at the world heritage settlement of Darlington.

Day Four

Darlington to Hobart

Explore the woodlands at the northern tip of Maria Island, and the dramatic sea cliffs of Fossil Bay. Enjoy a celebratory champagne lunch before boarding the boat to go back to the mainland.