Twelve Apostles Lodge Walk celebrates 10th birthday in 2015
Category: News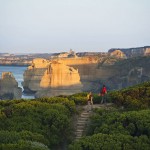 The Twelve Apostles Lodge Walk is celebrating ten very successful years in operation this year. The 10th birthday is officially recognised as Monday 20th April 2015, but the entire year and walk season promise to be full of fantastic celebrations.
"Over our ten years, we've noticed some trends.  More and more, Twelve Apostles Lodge Walk is something people like to do to celebrate a major life milestone or birthday, and we'd really love to share this experience with walkers during our tenth year in operation in 2015," said Dana Ronan, Director of Twelve Apostles Lodge Walk.
"It's because of the support we get from our keen walkers each year, that we can continue to operate our iconic tourism experience as part of the Great Ocean Walk.
"To celebrate our birthday we've come up with some great ways to make 2015 a memorable year for our team and all of our walkers…2015 promises to be packed with some exciting promotions, competitions, offers, and even some special guest walkers," Dana continued.
Twelve Apostles Lodge Walk, formerly known as The Twelve Apostles Walk by Bothfeet, is located at Johanna, 250km south west of Melbourne on Victoria's Great Ocean Road. The walk covers the last 52km section at the west end of the trail known as The Great Ocean Walk.
The 2015/16 Twelve Apostles Lodge Walks are all 4 days/3 nights and include accommodation in eco-luxe ensuite villas in a natural rainforest amphitheatre. The lodge is sustainably designed and built, and is Advanced Eco-certified with Ecotourism Australia. Walks are priced from $1995 per person, and include accommodation, all gourmet meals (including morning and afternoon teas), return Melbourne transfers to the lodge, walking gear and a scenic helicopter ride over the Twelve Apostles.
"We constantly pinch ourselves that we have created an iconic business from scratch.  To be recognised as one of the Great Walks of Australia and have people from all over the world choose to travel to Australia to join our walk, to trust us with their holiday memories, is humbling."
Dana says that over the last ten years they've seen some real change at Twelve Apostles Lodge Walk.
"It's been a challenging time for tourism.  Australians are fiercely protective of our beautiful country and yet, mostly we choose to explore overseas before our own backyard.  This was instrumental in us supporting the Great Walks of Australia collection.
"Also, we've seen a real shift in the reasons why people take a holiday.  More and more we seem to need an excuse such as a major birthday or a wedding anniversary, or perhaps suffer a health scare that makes them take time out for a relaxing, rejuvenating short break," Dana continued.
Since starting up in 2005, Twelve Apostles Lodge Walk has had nearly 5000 walkers join them. The youngest walker was six years old, and the oldest 85.  Dana says she and partner Gavin look forward to this year being a great year for the iconic tourist attraction and they invite people of all ages and fitness levels to join a walk.
"We've worked hard to schedule more walks than ever before, so we can offer 900 people the opportunity to explore our part of the world, experience the walk and make beautiful memories with us this season," Dana concluded.