The Red Centre named as one of the "Top Five Regions" for travel in 2019.
Category: Uncategorised
Home to the Classic Larapinta Trek in Comfort, Australia's iconic desert has been named in the Lonely Planets "Top Five Regions" and a must-see destination for 2019.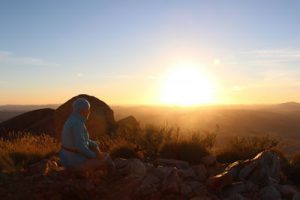 Listed alongside  Piedmont, Italy (#1); The Catskills, USA (#2) and Northern Peru (#3), and ahead of Scotland's Highlands and Islands (#5), Lonely Planet spokesperson, Chris Zeiher, said the Red Centre was so hot right now and not just with the fabulous spring weather!
"Our red heart is pumping with immersive cultural experiences, jaw-dropping scenery and once-in-a-lifetime experiences," he said. "The Red Centre is the beating heart of Australia, a place of surprises, and one that leaves a profound mark on those who visit."
Tourism NT Deputy Chief Executive, Andrew Hopper, said Lonely Planet's Best in Travel accolade would not only shine the global spotlight on the entire Red Centre – the MacDonnell Ranges, Kata Tjuta and Uluru, Watarrka National Park and Kings Canyon – but also on the art, the culture, the characters and operators who live and love what they do in Australia's outback. We're incredibly grateful to the Lonely Planet team and thank them for their extremely good taste." he laughed.
With keen Lonely Travel travellers being hot on the heels of this stunning destination, we urge great walkers to book ahead and get their dates for the Classic Larapinta Trek in Comfort secured before one of our best-kept secrets is more popular than ever!
Check out next departure dates available here
View the full Classic Larapinta Trek in Comfort itinerary here