The Maria Island Walk gets greenlight to develop walk on South Coast Track
Category: News
Tasmanian ecotourism figure and owner of the celebrated Maria Island Walk, Ian Johnstone, has proposed development for a new iconic walking experience along Tasmania's South Coast Track and has been successful with a federally funded Regional Jobs and Investment Package grant of nearly $3m.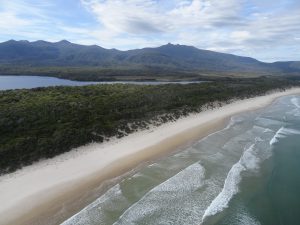 The project involves building six environmentally-sensitive walker's huts in the Tasmanian Wilderness World Heritage Area (TWWHA) along 85km of the renowned and remote South Coast Track, for a seven-day guided walk for small groups of 10 guests and two guides. The South Coast track is one of the great walking treks of the world and the new guided walk will allow guests to enjoy this magnificent World Heritage wilderness walk in style.
The project is in the planning approval phase at present and the walk is due to commence in 2020. Stay tuned for more information as details of the walk evolve. They have registered their interest in applying to be a Great Walks of Australia member product in the future.