The Environment Quenches its Thirst on the Murray River Walk
Category: News
Great walkers have been getting knee deep in environmental watering on the Murray River Walk this past couple of months.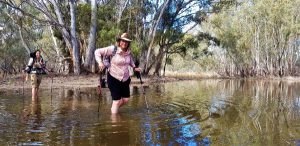 Guests on the August and September walks have been getting their feet a little wet, but all in the name of a good cause, as the The Chowilla Environmental Regulator, comes into action.
The Chowilla Environmental Regulator, is in operation when water is held in the Chowilla Creek, causing the level to rise and spill over the banks. The water then continues to move across the floodplain, giving the vegetation a much needed drink and encouraging new growth and breeding events for frogs and waterbirds. Being plunged into a full understanding the significance of this activity, is an exciting part of the Murray River Walk for lovers of this region and the environment.
The Murray River Walk guides are known to share so much of their expert knowledge about environmental stewardship, that walkers come away both rejuvenated and enlightened on this popular Great Walk of Australia.
With 2019 dates filling fast, if you're keen to explore this stunning part of the world, read more here or book your Murray River Walk now.