A melt in your mouth moment on the Murray River Walk can now be savoured at home with this Haloumi & Vegetable Fritter recipe. This is the first official recipe for our Recipes from the Trails series, this time from 'the river'.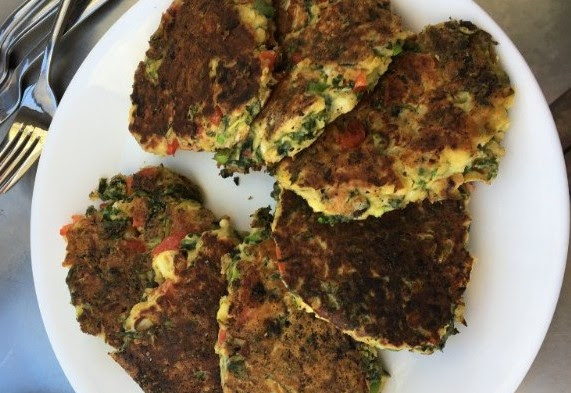 HALOUMI & VEGETABLE FRITTERS
(Gluten Free & Vegetarian)
INGREDIENTS
2 tbs butter
1 bag of kale roughly chopped
2 eggs – beaten
1 cup besan (chickpea) flour
1 heaped tsp baking powder
salt & pepper to taste
1 – 2 zucchinis (courgettes), grated
1 red capsicum, diced
4 spring onions, finely sliced
1 block of haloumi, grated
METHOD
Melt the butter in a fry pan
Add the kate and gently sweat for 2-3 minute stirring often, until wilted. Allow to cool.
Into a large bowl, grate the haloumi and zucchini
Add the diced capsicum, sliced spring onion and cooled kale
Mix in the eggs, flour, baking powder and seasonings until just combined.
Cover and refrigerate until needed – rest for a minimum of 30 minutes.
Heat BBQ or fry pan with oil, and pour dollops of batter onto pan. Cook over medium heat until they're golden brown – approx 3-4 minutes on both sides.
Serve warm with your choice of relish – Murray River Walk serves them with Tuckeroo Bush Tomato Relish
If this recipe has your mouth watering for more – stay tuned for our next edition with our second series of Recipes from the Trail or find out more about The Murray River Walk here.