Reconnect on a walk with your family
Category: News
Take some valuable time out with your family on a walking holiday that will reward you all for years to come.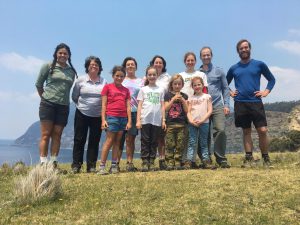 We all know it is hard to get quiet, quality time with our children.  Moments when there they are not distracted by Minecraft, Instagram or Netflix, and we're not on a laptop or running to another meeting. However, a walking holiday offers the perfect way to reconnect with your family, and we promise plenty of quiet, quality moments!
Depending on the age of your children and the walk, our Great Walks are suitable for families with children 12 years and above. However, if you're keen to walk with kids from age 7-8, here are a couple of walks suitable for younger hikers. All walks are available to book on a private basis also.
The Maria Island Walk, Tasmania
If your child loves animals and exploring, they're going to love the Maria Island Walk. Close encounters with wombats, Tasmanian Devils and other incredible wildlife will have them reminiscing about this holiday time and time again. The 'Pack Free' porter service is highly recommended, as walkers will only have to carry a water bottle, rain jacket and lunch box. A  family friendly portered walk departs on the 2 December 2019, however, The Maria Island Walk will add new departures dates based on a minimum of 4 people for a family-friendly walk, and the best time for these departures is in January – yes, school holidays sorted! Call +61 3 6234 2999 or email bookings@mariaislandwalk.com.au to arrange a walk to suit your family or even a group of families.
Image: The Bennett family from QLD enjoying time together on The Maria Island Walk this season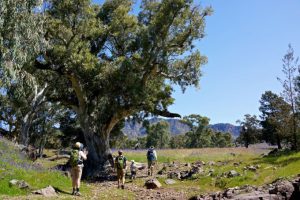 The Arkaba Walk, South Australia
Ever wanted to camp with your child but can't comprehend getting all the gear? This is the perfect way to sleep under the stars in comfort! The Arkaba Walk is hosting three trips designed exclusively for families to coincide with school holidays in April and July 2019. Share stories fireside and learn all about Australian wildlife. An Adnamatna cultural session will also give your family an understanding of the first people of the Ikara-Flinders Ranges who have connected with this place for thousands of years before us. As a family friendly BONUS, one child between 8-16 years joins free of charge when travelling with two adults – that's a saving of $2,900 per family! Find out more about departure dates and these family-friendly Arakaba walks here.
Freycinet Experience Walk, Tasmania
This four-day lodge based walk is popular with families as you return to the Friendly Beaches lodge each night. With the potential of seeing lots of wildlife, exploring beautiful beaches, and some great hiking options, it's fun for all ages at Freycinet. Lodge hosts prepare beautiful meals each night and there is definitely no service/wifi at this secret lodge in the national park. It's a beautiful experience to share and kids over 8 years who love hiking are welcome. Check it out here.
If you're keen on a great walking holiday with your older children take a look at the Walk Departure Dates here or check out more information about our range of walks offered throughout the year.