New wilderness campsite for the Larapinta Trail in 2015
Category: News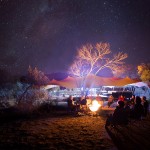 In 2015 World Expeditions is preparing to launch its 3rd Semi Permanent Campsite on the Larapinta Trail near the base of Mount Sonder.
The new campsite ensures that World Expeditions trekkers enjoy the best spread of locations, each with amazing outlooks characteristic of the Eastern, Central and Western sections of the Larapinta Trail. It also ensures that driving is minimised and while trekking and relaxing in the stunning campsites is maximised.
The stunning design by Neeson Murcutt Architects was adopted in the first two semi permanent campsites launched in 2013 and created an experience beyond expectations.  However it is more than the facilities that is inspiring walkers, the relationship with Aboriginal Traditional Owners developed through the campsite partnership has resulted in amazing new cultural experiences, such as a visit to Larapinta Town Camp Community to enjoy a relaxed discussion about the culture of the country they are trekking on.
The addition of an extra campsite has also increased availability of departures, especially for private groups. Although many dates are already booked there is still availability to secure exclusive private treks for groups of 8-16 departing Alice Springs on select Wednesdays and Fridays from April to September 2015.
To find out more, visit our website.