New Wild Hide Outs on The Arkaba Walk
Category: News
Arkaba's new wildlife viewing hide is designed to bring you even closer to the abundant wildlife on offer in this magical location.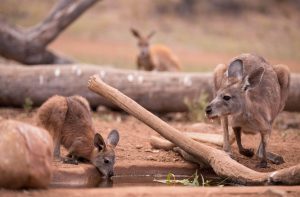 A hide is a camouflaged shelter used to observe wildlife at close quarters. A visit to the new Arkaba hide is only a short stroll from the Arkaba Homestead and is now included on your Wild Bush Luxury Experience.
The carefully dug out viewing platform, within the hillside at the confluence of Arkaba and Woolshed creeks enables you to be positioned, at eye level, just three metres away from the watering hole frequented by a range of Australian native animals. From here you will have an incredible opportunity to watch, unobscured, the local wildlife in their day-to-day behaviour.
Recently spotted were these Macropus robustus erubescens (or Euros) pictured above. A very common sighting on Arkaba, this adult female brought her joey to drink adjacent to the hide. This little joey is approximately 10 months old and will be fully developed between 18 – 20 months. Even after the independence of drinking alone is reached, the youngster can maintain a very close relationship with its mother. It's also fascinating to watch the interactions these animals have with other large Macropods such as the sub-adult Red Kangaroo in the background, who in this instance was chased away by the mother on several occasions as he moved too close to her joey.
This intimate and unique experience of the hide is just one of the many incredible encounters waiting for you on the Arkaba Walk – for a full itinerary or to start your booking click here.