Not normally a staple in the Pinetrees Lodge menu, a recent wellness week focus resulted in some new thinking (and tasting). This deliciously simple dish based on traditional ayurvedic Indian recipes is truly worthwhile adding to your at home repertoire!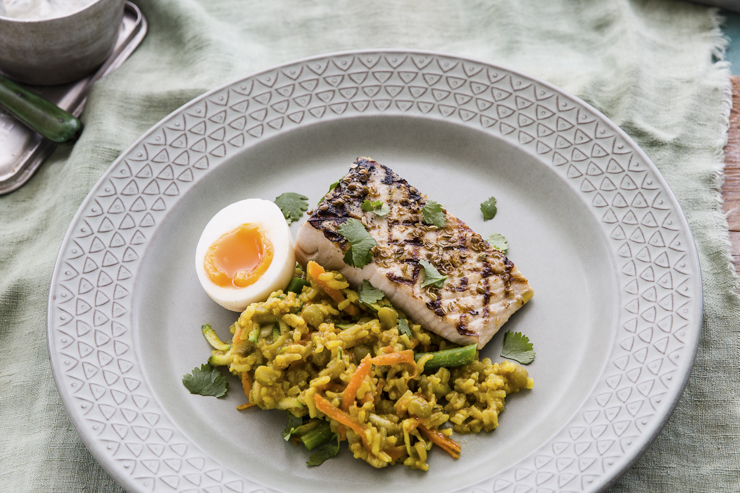 It turns out that, irrespective of the digestive and detox benefits of rice and lentils, kitcheri (kich-ah-ree) dishes are absolutely delicious for lunch. Serve up a bowl of spicy aromatic lentils with grilled trevally, rice and raita. Whatever you do, don't tell the big bloke with the bottle of red that this food is yoga retreat fare, because he'll probably – well… thankfully we love our wine on the Great Walks of Australia.
TREVALLY KITCHERI
Serves 8 /10 minutes preparation / 30 minutes cooking
INGREDIENTS
4 tablespoons coconut oil
3 cm piece ginger, grated
1 garlic clove, crushed
1 green chilli, finely chopped
2 teaspoons fenugreek seeds, crushed
2 teaspoons ground turmeric
2 teaspoons ground cumin
2 teaspoons ground coriander
2 teaspoons fennel seeds
200 g basmati rice
200 g green lentils
1 carrot, grated
1 zucchini, grated
10 green beans, cut into 1 cm pieces,
1 teaspoon sea salt
8 x 100 g pieces Trevally (white fish)
1 lemon
4 eggs, boiled for 7 minutes, peeled and halved
1 bunch fresh coriander, leaves picked
Raita
200 g plain yoghurt
1/4 cucumber, deseeded and cut into 5 mm dice
1/2 bunch mint, chopped
1 teaspoon toasted cumin seeds, crushed
1/2 teaspoon garam masala
METHOD
To make the raita, combine all the listed Raita ingredients and set aside in the fridge.
Heat 2 tablespoons of the coconut oil in a large heavy based saucepan over medium heat. Add the ginger, garlic and chilli and 1 teaspoon each of the dried spices and fry until aromatic. Take care not to burn as it will leave a bitter taste.
Add the rice and lentils and stir to coat in the spices. Add 600ml of water and bring to the boil. Simmer for 20-25 minutes until almost all the water has been absorbed and the rice is tender.
Add the vegetables and salt and cook for a further 5 minutes. Combine the remaining spices and put in a shallow dish. Add the trevally and toss to coat in the spices. Heat the remaining 2 tablespoons of coconut oil in a large heavy based frying pan. Cook the spiced trevally until golden brown and cooked through and the spices have formed a nice crust.
Serve in a deep bowl with plenty of fresh coriander, squeeze of lemon juice, half a soft egg and a spoonful of raita. Enjoy!