Hot off the press – the new Great Walks of Australia brochure is here
Category: News
Are you still deciding which walk to do first, or looking to choose your next adventure? Pour yourself a tasty beverage, take a moment for yourself and ponder a few pages while you choose one or many of our Great Walks of Australia.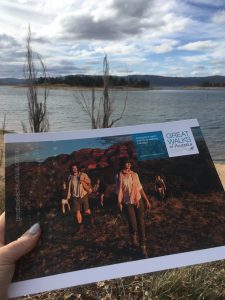 The new Great Walks of Australia Brochure has arrived and is ready for you to download or request a hardcopy. There are now 13 walks in the collection, covering mountains, islands, rivers, beaches, rainforest and the outback.
Nothing sparks the senses quite like spending time in nature and our walks present an unparalleled opportunity to experience Australia's diverse and magical landscape, up close, in depth and on foot.
Whether your looking to explore the untamed Tasmanian wilderness and beaches, rugged Victorian coastline; the ancient volcanic plateaus of Queensland; the spectacular coastline of Western Australia, the magnificent outback and rivers of South Australia and Northern Territory; or the stunning islands and mountains of New South Wales; your experience will be one that remains with you for a lifetime.
All independently owned, expertly guided and offering gourmet food and wine and exclusive accommodation, once you start browsing we know the hardest part will be choosing which walk to do first.
The next step is yours….
DOWNLOAD the eBrochure and start browsing now or ORDER a hard copy to be mailed to your home or office and enjoy flipping through these spectacular pages in your downtime!
See you on the trails – #mygreatwalk