Great Walks to present at Sustainable Trails Conference in NZ
Category: News
Coming up in the first week of April is the Sustainable Trails Conference to be held in Marlborough, New Zealand.
Our Great Walks of Australia CEO, Gina Woodward will present on Great Walks of Australia – What makes a great walk and how successful have we been? and will participate in a panel discussion on What do we need to plan for? Changing nature of trails in Australia and NZ.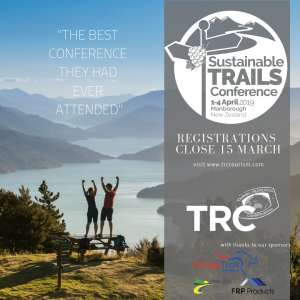 The events incorporates presentations and discussion on both walking/running and cycling/mountain biking trails. The primary themes are around:
1. Creating experiences, not trails
2. Making trails count — how to attract investment
3. Governance, management and good planning
4. Selling the experience — innovation in marketing
To register for this event, please do so here through TRC Tourism before 15 March 2019.