You're invited to experience a dinner party at MONA with Freycinet Experience Walk
Category: Uncategorised
Dinner at MONA's new Faro Restaurant is on Freycinet Experience Walk in January and February 2019!
Freycinet Experience Walk is excited to celebrate MONA's new wing called Pharos, and its a respective new restaurant, Faro.
In this unique setting, Chef Vince Trim is wowing guests with a dinner served between the art experiences of James Turrell.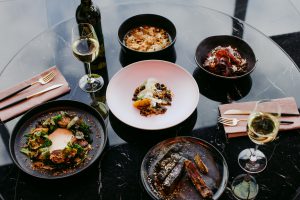 To celebrate, Freycinet Experience Walk is shouting dinner and art experiences* in Faro when group bookings of four or more walkers are made on the Freycinet Experience Walk.
Please email Freycinet Experience Walk with your preferred date for walking and dinner and we'll check the availability at Mona's Faro for you. Contact us today: walk@freycinet.com.au
*Terms and Conditions: The offer includes food and art only. Book your Freycinet Experience Walk for four or more walkers, direct as below before the end of December for available dates in January and February 2019. Our January 11 and February 1 trips are available as "exclusive use" to the first bookings of six or more people.