Enjoy a private Maria Island Walk with friends this spring
Category: News
Book a group of 6 friends on The Maria Island Walk in October or November 2018 and you will enjoy a private walking experience!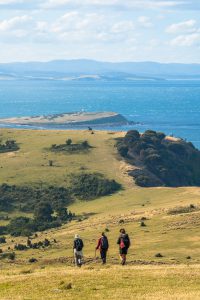 We believe spring is one the best times to explore Maria Island so we are offering a one-off spring special to our Great Walks of Australia friends. When you book the Maria Island Walk this October or November, you and a group of 5 friends will experience a private walk that usually operates with a group of 10 people, allowing you to have an even more intimate experience on the walk, a lifetime of special memories and make a save $10,000 on a private group booking!
Spring is the start of a sensational season on The Maria Island Walk. Maria Island National Park feels peaceful and lush after the winter rains, the plants are flourishing and there are opportunities to encounter baby wildlife in the wild.
To check availability or book please contact reservations on 03 6234 2999 or email bookings@mariaislandwalk.com.au. This offer is valid for new direct bookings until 15th November and subject to availability.