Don't miss your private departure on Tasmania's Freycinet Experience Walk
Category: Uncategorised
Updated December 13 – new dates announced.
The Freycinet Experience Walk has just announced an exclusive opportunity to book a private walk for you and four or more of your family or friends to walk in January or February 2019.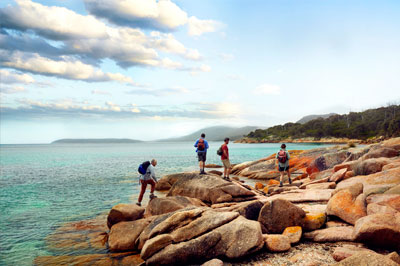 The departure is valid for the 11 January 2019 and 1 February 2019 departures only for five or more people.  This very limited offer is for the lucky walkers who are first to book! And if hiking this iconic part of Australia with just your nearest and dearest and an expert guide isn't enough, we'll tempt you that little bit more with a few words from our recent great walkers…
The best trip I have done in Australia, maybe anywhere.
Gwelodude, November, 2018, Trip Advisor
The Freycinet Peninsula is a beautiful, unspoilt part of Tasmania & being able to see this area from the water & also to access the remoter parts of this area has been an amazing experience. To see the sea life, birds, flora & footprints of wildlife has allowed me to really immerse myself in the National Park. The Lodge team Dan, Jemma, Dan & Hector are a wonderful team working hard to produce the delicious food  & at the same time being passionate about the global environment & the surrounding area.
I leave Tasmania today feeling very privileged to have been able to share in a special experience & the memory of the trip will remain with me. Sally Hughes, 11 November 2018, via email
So what are you waiting for – book your trip of a lifetime today – Call (03) 6223 7565