Complimentary night at MACq 01 Hotel in Hobart with The Maria Island Walk
Category: Uncategorised
Book the multi-award-winning Maria Island Walk on departures from 10 January to 30 April 2019 and enjoy a complimentary one-night stay at Hobart's luxury hotel MACq 01, before or after your walk experience.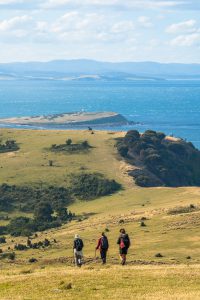 Offer includes one night in a twin share Superior Hunter Room at MACq 01 hotel, breakfast for two guests, free WiFi and valet parking (valued at up to $490).
MACq 01 is nestled in the heart of the historic Hobart waterfront, surrounded by yachts, docks, convict-built sandstone warehouses and a huge expanse of open water. Each relaxed luxury room in this storytelling hotel is linked to a Tasmanian character central to the story of Tasmania such as heroes, villains, explorers, inventors, convicts and more.
The Maria Island Walk is recognised as one of Australia's truly outstanding experiences. The four-day walk is a delightful blend of rare wildlife, fascinating history, island tranquillity and gourmet delights.
Set on a beautiful island national park off Tasmania's east coast, small groups of ten guests and two friendly guides explore pristine beaches, tall ancient forests and world heritage sites by day, while each night relax with candlelit dining.
To check availability or to book please contact:
bookings@mariaislandwalk.com.au or call +61 3 6234 2999 and mention 'MACq01 offer'.
Offer ends Friday 5pm 18 January 2019 and only applies to new bookings (subject to availability).
Offer cannot be used in conjunction with any other discount or offer.
Walk and stay dates:  10 January – 30 April 2019
Offer not valid during the dates below:
– Australia Day Long Weekend: 25-27 January 2019
– Wooden Boat Festival: 7-10 February 2019
– Easter: 19-21 April 2019
View more images and the full itinerary for the Maria Island Walk here