Award-winning Larapinta Walk Expands with New Campsite
Category: News
We're excited to announce that Australian Walking Holidays have completed construction of a fourth campsite on the Larapinta Trail.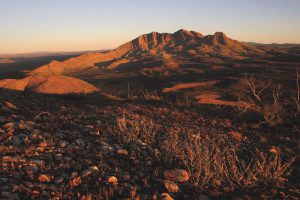 The popularity of the Larapinta Trail  has steadily increased since its launch in 2013 and the new campsite will allow more walkers to enjoy the highlights of this iconic walk in the remote Western MacDonnell Ranges near Alice Springs in central Australia.
Located at the western end of the trail with fantastic views of nearby Mt Sonder, the new 'Sonder Camp' was developed in consultation with Tourism NT, Parks and Wildlife Commission of NT and the Central Land Council.
All four of the Australian Walking Holiday's exclusive campsites incorporate sustainable technologies such as water-free composting toilets, solar lighting systems and a new hybrid grey water disposal system designed for the arid environment. The new Sonder Camp has the added advantage of using a new footing system, which bypasses the need for concrete footings.
Building materials, colours and the overall style of the new structure were carefully chosen to blend in with the surrounding environment and to provide a level of comfort rarely available in this remote desert environment.
The Y-shaped structure serves as a living area, covering about 150 square metres of off-ground flooring and a stretch canopy roof allows the structure to be modified to the conditions at the time, ensuring the interior remains comparatively cool and sheltered in virtually any weather conditions.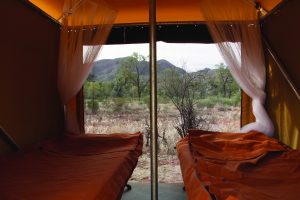 According to Australian Walking Holidays General Manager, Michael Buggy, all four campsites provide for maximum amenity with minimal impact on the land.
"The campsites are attractive, practical and comfortable and offer a standard of accommodation rarely available in remote regions, with stylish and comfortable dining and living areas keeping occupants comfortable in a climate known for its temperature extremes," Michael said.
The 6 day Classic Larapinta Trek in Comfort is the winner of Tourism NT's Brolga Award for best sustainable product in 2016 and 2017.
Australian Walking Holidays leads the way on the Larapinta, having pioneered the trail back in 1995 and now offering the biggest range of walks on the trail, including the 6-day Classic Larapinta Trek in Comfort , on which walkers enjoy the facilities of the campsites, including hot showers and lounge facilities, and accommodation on off-grounds beds in stand-up tents.  The fully guided trek is supported trek, meaning that walkers carry only a day pack.
A walk on the Larapinta Trail offers the chance to swim in peaceful waterholes hidden deep within the West MacDonnell Ranges, to marvel at the stunning rock formations at Simpson's Gap, Standley Chasm and Serpentine Gorge, to climb Mount Sonder for a spectacular sunrise and to gain an understanding of the rich history of Australia's traditional owners and the Indigenous culture.
To view the full Larapinta Trek in Comfort itinerary or make a booking click here.