Freycinet Experience Walk Celebrates Turning 30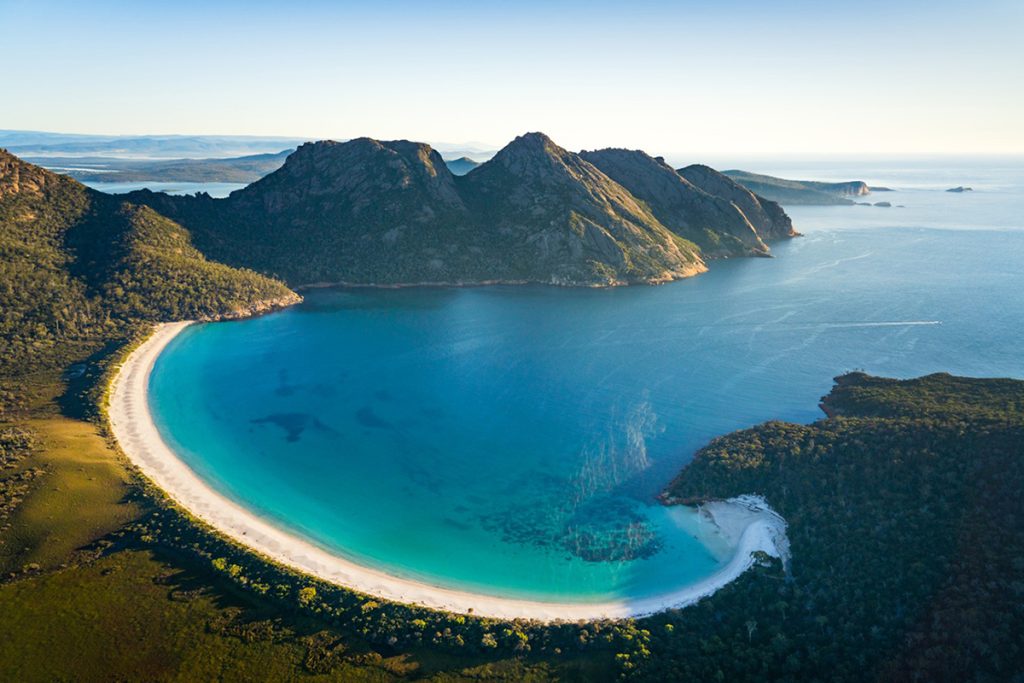 It's a four day journey through one of the most extraordinarily beautiful parts of Australia, and in 2022, Freycinet Experience Walk in Tasmania – one of Australia's original and premier eco-tourism experiences and multi-day guided hikes, turns 30.
Founded by Joan Masterman in 1992, Freycinet Experience Walk remains grounded in their family ethos. In 2019, Joan was awarded an Order of Australia for her contribution to tourism in Tasmania and her commitment to protecting and preserving the environment. Joan's family continue to run the walk to this day and champion her legacy.
"Joan's legacy is that the quality of ecotourism can be expressed through architecture, culture, and long-lasting relationships. In Freycinet Experience Walk, there's a deep passion and care for Tasmania and for the experience that we have of Tasmania," describes former Friendly Beaches Lodge Host, Dan McMahon.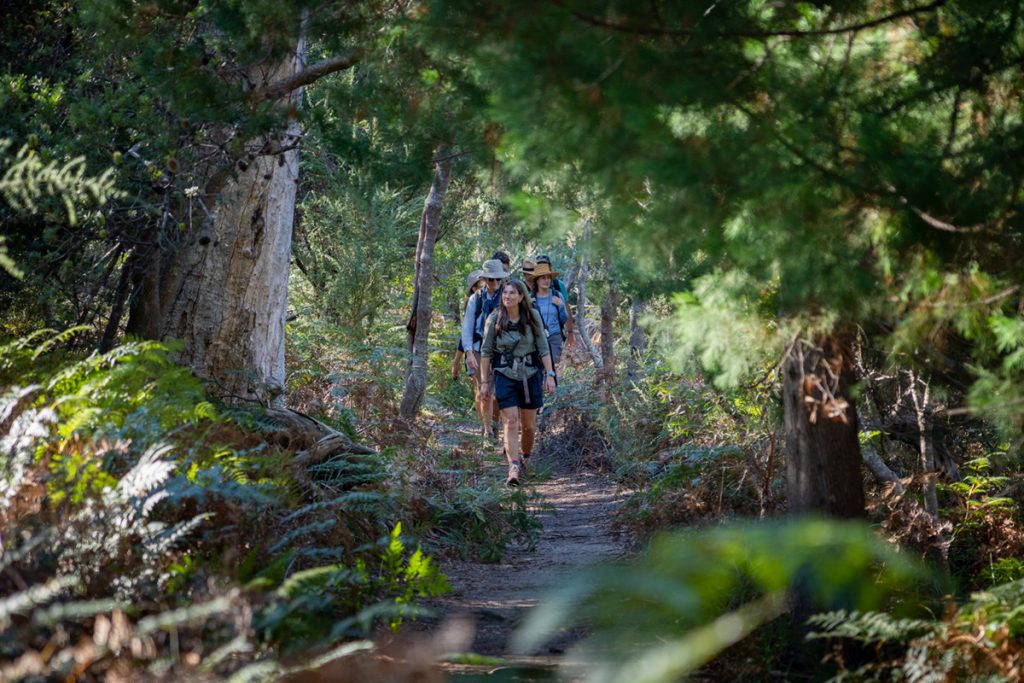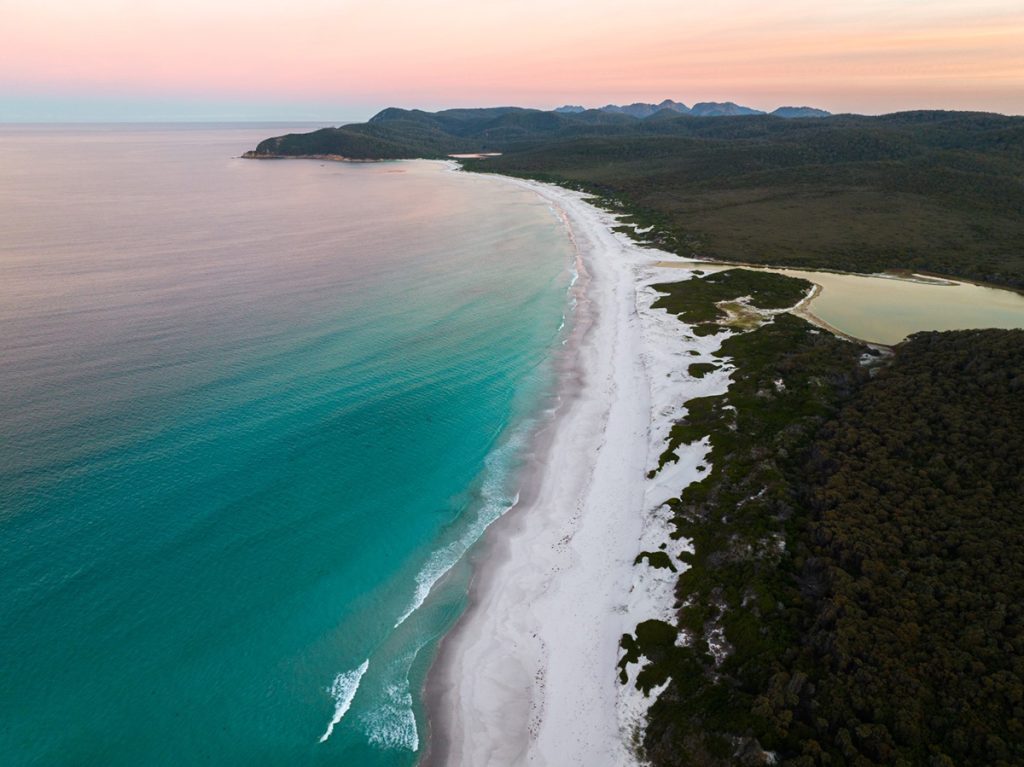 Across the four-day walk, guests walk the entirety of Freycinet Peninsula including Wineglass Bay. On the trail they are immersed in indigenous stories; the area once a rich food bowl for local first nations people. Rare and endemic flora and fauna abounds throughout the beaches and forests you walk through, from the diverse bird life and numerous marsupials, to ancient grass trees and stunning wild orchids. There's literally something fascinating nature has on show to see around every corner.
Then there's the accommodation. For many, Friendly Beaches Lodge is a place hard to forget. Lightly floating on the landscape on the stumps of old Fishermans shacks, surrounded by 130 hectares of nature sanctuary, you won't be alone in finding it hard to tear yourself away from this beautiful, deeply relaxing place.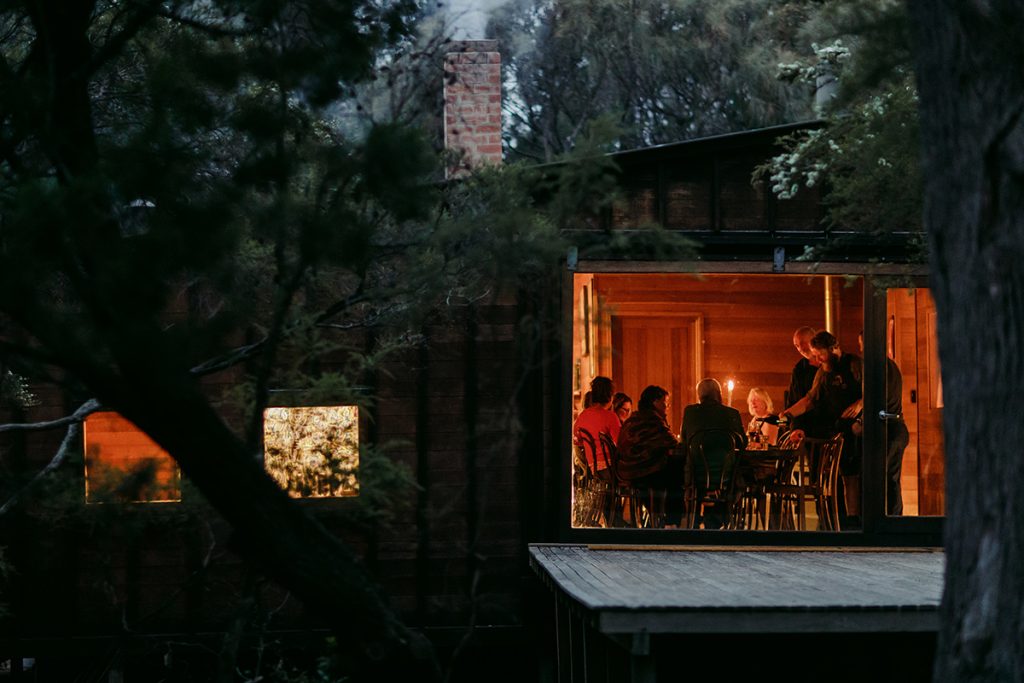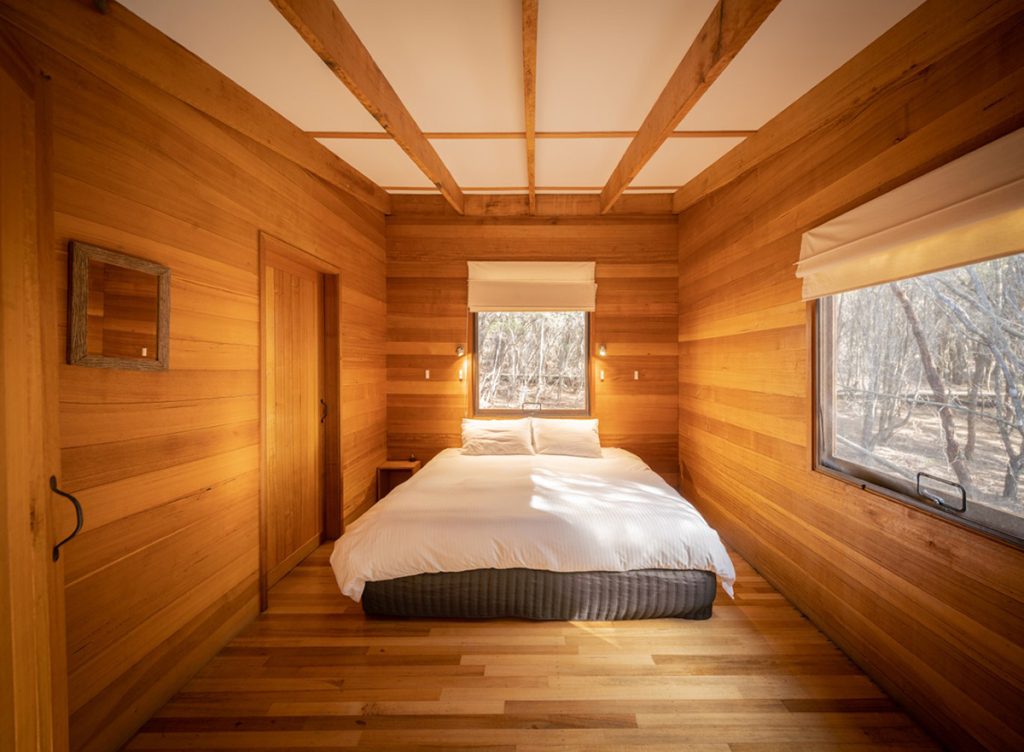 Used exclusively by hikers on the walk, the lodge set a new standard for sustainable, environmentally focused tourism. Designed by Ken Latona and built out of sustainable Tasmanian wood, it continues to impress walkers with its functionality and classic minimalist lines, as well as its welcoming, relaxed feel. Plus a new refreshed menu launched by David Quon, highlighting the 'bush tucker' influence of the surrounding landscape, is a new addition to staples such as the freshly caught flat-head hikers bring home for dinner.
Always adapting and evolving, in 2023 the award-winning Freycinet Experience Walk will launch an Artists in Residence Program. Artists will be housed in a space separate from the walkers, and will be site responsive environmental / ephemeral artists. Artists will leave something of their process, and some written documentation of their experience of Friendly Beaches and the peninsula that future guests can experience – a nod to the family's appreciation of the arts.
A chance to escape urban life and reconnect in sweet relaxed bliss with nature, the Freycinet Experience Walk is one worth celebrating.
Get more info on Freycinet Experience Walk and book here
"If asked by the right person to nominate one of my favourite spots on Earth, I would pause, and in my mind's eye, take a breath of sea air from a long, deserted beach on the Freycinet Peninsula. I would try to describe a walk on white sand, past a lagoon flecked with black swans, along a wattle-shaded track impressed by wombats and devils, to a lodge concealed in the trees." Nicholas Shakespeare, Author
"Friendly Beaches Lodge is one of those places you never want to leave, and one of those places you always long to return to." David Handley, Sculpture by the Sea
"Freycinet Experience Walk is a bushwalking experience…but it's about far more than the bushwalking." Reuben Wells, Former Freycinet Experience Walk guide
"Never underestimate the restorative power of the Australian bush." Joan Masterman
"I haven't met many people who are so in love with Tasmania as a place, but who also realise that that love is as much about people as it is about the landscape itself. That's the main impression I have of Joan – that to her, the place is people." Richard Wastell, artist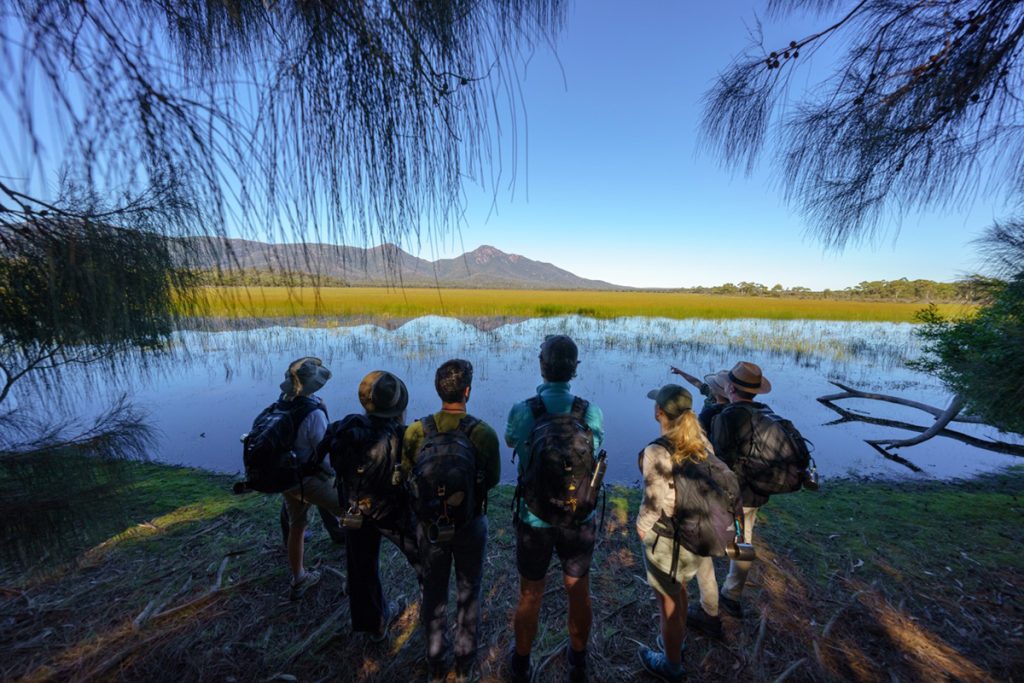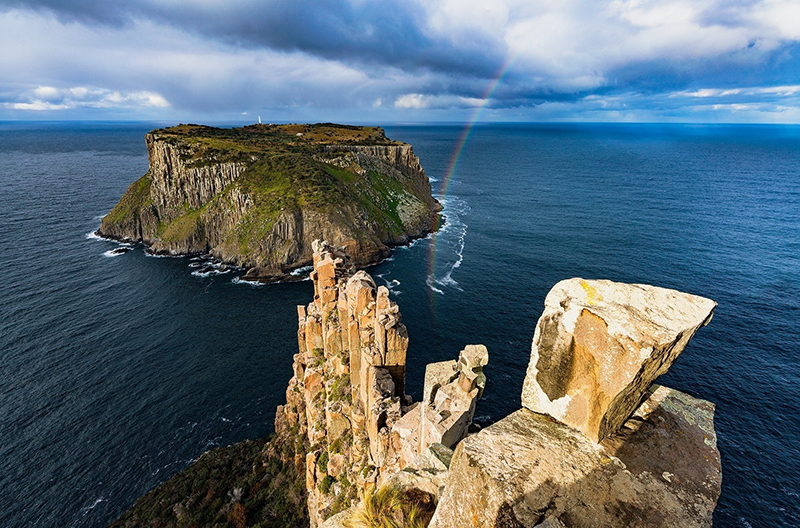 Several last minute places departing July 2 are now up for grabs on the inaugural curated gourmet journey on the Three Capes Lodge Walk, called Restaurant At The End World.
Taking in the full four day, three night hike through Tasman National Park in Tasmania, this special edition of the Three Capes Lodge Walk will see guests treated to spectacular chef prepared Tasmanian food and wine, and musical and storytelling adventures, unfolding over three enchanting nights as you journey from lodge to lodge.
With several departures in June and July, coinciding with Dark Mofo in Hobart, dates for this limited edition 2021 winter walking experience sold out nearly instantly when first released. And trust us, what's in store for guests is worth the hype!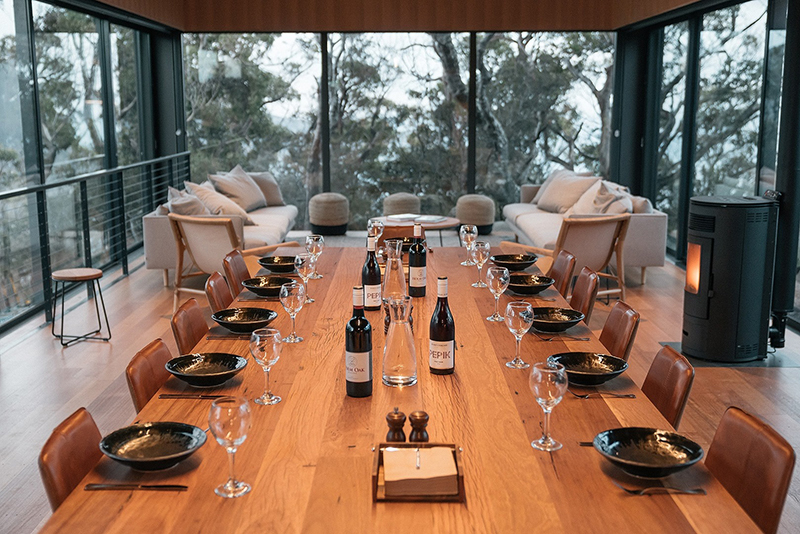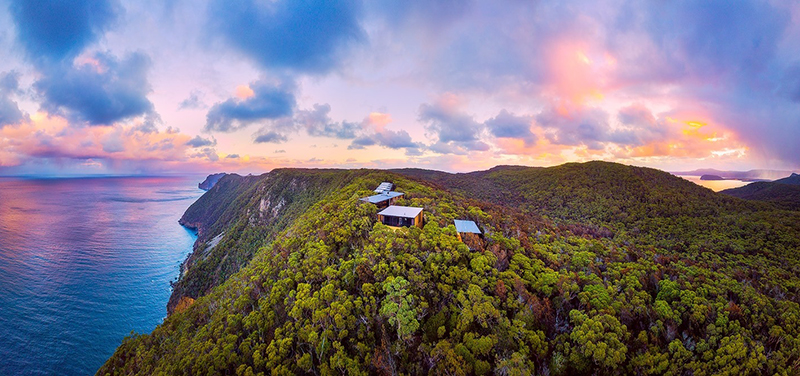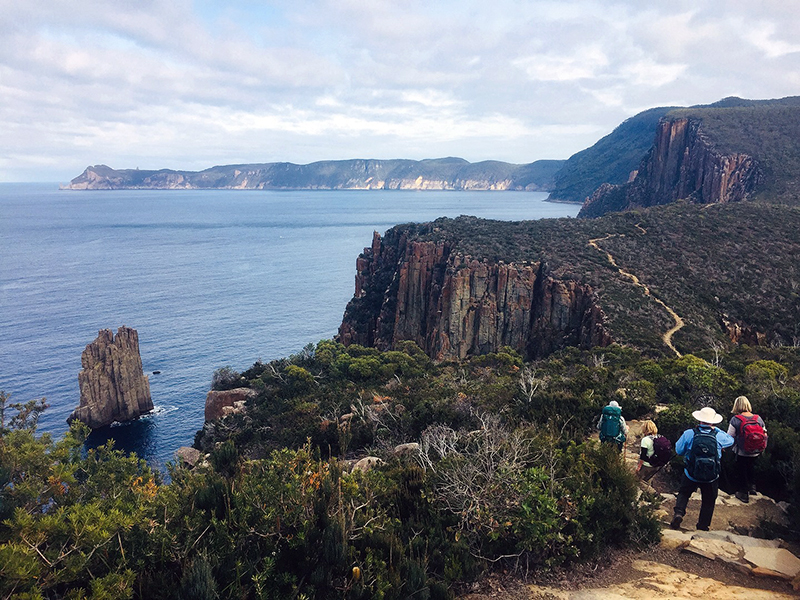 Miss the recent Live From Aus special with Matthew Evans, aka The Gourmet Farmer, on the Bay Of Fires Lodge Walk? Catch up with this short video of his Top 3 moments and get a sneak peak at this phenomenal Great Walk Of Australia!
Best known and loved for his work on SBS's long-running TV show The Gourmet Farmer and cookbooks, Matt has become a proud Tassie ambassador, having moved from the mainland many years back to start up the brilliant Fat Pig Farm and put his chefs skills to good use, growing, producing and entertaining guests at his renowned long lunches on the farm.
We were chuffed to have Matt come to the Bay Of Fires Lodge Walk and have him and Sadie show everyone some of what makes this Great Walk Of Australia so special, including it's incredibly spectacular and remote location on the North Eastern tip of Tasmania.
A few clouds didn't deter Matt from wandering the amazing, vast white sand beaches, going for a kayak or even taking a dip in the world's greatest outdoor bath tub – a special treat exclusively for the use of guests on the walk!
Enjoy this short video or watch the full episode, visit the Tourism Austalia Facebook page.
Read more about the Bay Of Fires Lodge Walk
Tasmania is a truly stunning place to explore on foot – that's why we have five walks in our most southern state of Australia – and there are certainly five reasons (and more) to join us there soon on one of the Great Walks of Australia.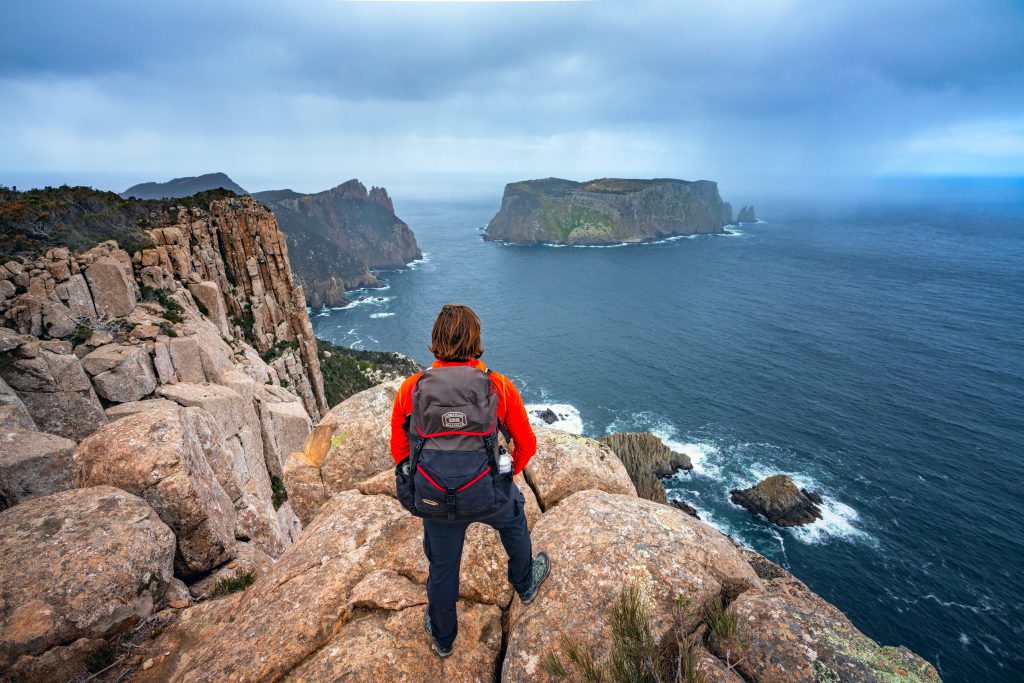 Each month offers a different delight for walkers whether that be watching humpback whales migrate in November, seeing the forest ablaze with wildflowers in December or swimming in warmer ocean waters after a mountain walk in February
Abundance of wildlife including the rare Tasmanian Devil and an island full of wombats, birds, wallabies, kangaroos, geese and more… see the Bennett's Wallaby, Forester Kangaroo, Pademelons and white-bellied sea eagles. Our Maria Island Walk is on a UNESCO world heritage listed island, the site of important wildlife conservation programs.
5 of our 12 Great Walks are located in Tasmania – our terrain and climate are just great for hiking
Explore the Edge of the World when you hit our newest trail on the Three Capes Lodge Walk, next stop Antarctica
Passionate guides bring our story to life – many of them are local to Tasmania, care deeply about their beautiful backyard and can't wait to share this with you on a walk
Food and wine… wow. Our sparkling white wines and our Pinot Noir are world renowned. You'll enjoy many a fabulous tipple on the Great Walks and you will have certainly earnt that end of day drink. Our fresh produce, clean air and water, mean that our food offering is rather lovely too – you may enjoy fresh fish or oysters on your next walk
Easy to access – our walks depart from pickups in either Launceston or Hobart, both great gateway cities with major airports and direct flights from mainland Australia
Eco lodges that rival the best in the world – from the timeless architecture of Friendly Beaches Lodge on the Freycinet Experience Walk, the stunning timber design flowing through to the ocean at Bay of Fires Lodge, or the new mind-blowing designs on the Three Capes Lodge Walk, this is a more than comfortable way to walk
Our walks in Tasmania operate primarily from October through to May each year, with some walks also offering winter departures on select dates – what a way to experience the true meaning of seasons
Our Overland Track is an iconic walk that's on the bucket list of hikers all around the world. Explore it with us on the Cradle Mountain Huts Walk…
Ok, so there are 10 reasons and we could just keep on going… so get in touch and we'll see you in Tassie soon!
During spring and summer, the Australian native plant Kunzea Ambigua, bears small white flowers which fill the Tasmanian air with a sweet honey scent.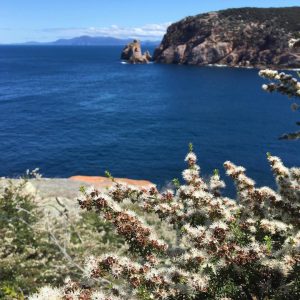 Also known as 'White Kunzea', 'Tick Bush' or 'Sweet-Scented Kunzea' can be found in coastal areas of Tasmania and eastern Australia.  Growing to a height of five metres, this native shrub not only smells sweet it also has a multitude of uses:
It can be made into an antiseptic oil for cuts and abrasions;
The leaves and flowers can be used in cooking. The unique plant can be used as a flavouring herb on meats/roasts, fried in butter, add to bread or our favourite, a native cocktail.
Native animals are often found sleeping under Kunzea plants, where they seek relief from ticks and other parasites – hence its popular name of 'Tick Bush'.
This image is of the White Kunzea at a magical spot called Haunted Bay on The Maria Island Walk.
Explore the island and enjoy this beautiful native plant on The Maria Island Walk.
Find out more about this Great Walk of Australia here.
For the last trip of their walking season, Freycinet Experience Walk is hosting a special 5 day experience.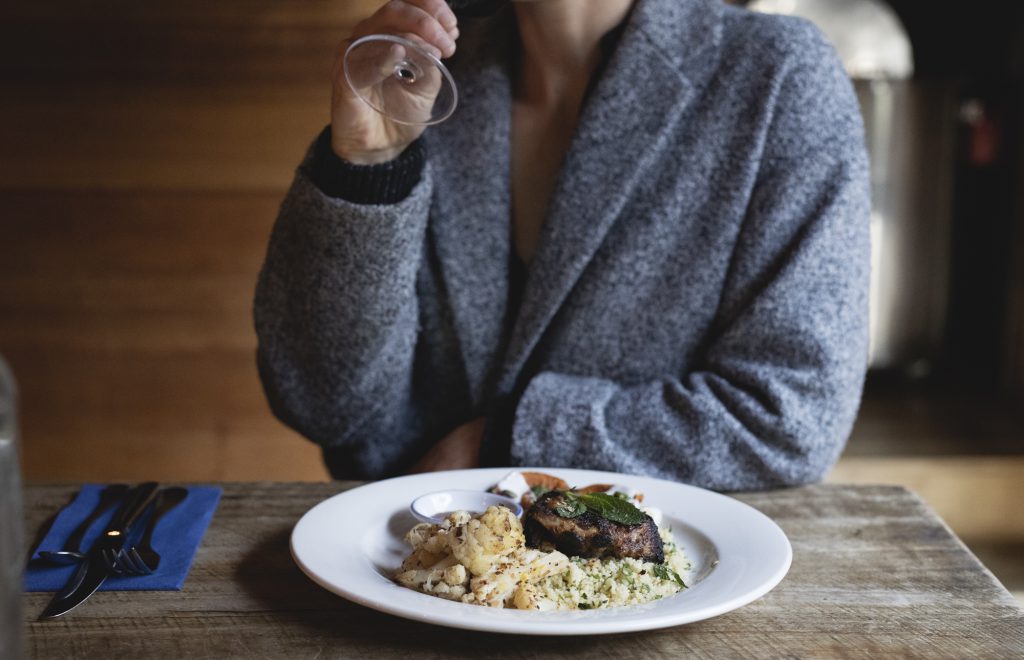 From April 29 – May 2, 2019, walkers will explore the Freycinet National Park with all our Freycinet Experience Walk highlights, plus enjoy extra special dinners, trips to the two wineries that produce Tasmania's two Langton's Classified Wines, Domaine A and Freycinet Vineyard, plus a visit to MONA!
For $3,100 per person, this special Freycinet Experience Walk & Feast itinerary includes:
– Mon 29 April – Pre-walk – visit Langtons classified Domaine A and taste the famed Cabernet Sauvignon with winemaker Conor van der Reest, then spend the afternoon at MONA and return to Hobart by ferry
– Tues 30 April – Walk departs – Standard day one walk itinerary (Schouten Island) with a seafood and sparkling dinner party including oysters, mussels, fresh local fish and a selection of the best sparklings of Tasmania.
– Wed 31 April – after an epic hike including iconic Wineglass Bay, we'll decant and match magnums of Domaine A Cabernet and pair it with succulent slow-cooked lamb and ratatouille.
– Thursday 1 May – after hiking along cliffs and through towering forests we'll dine with Freycinet Vineyard Pinot Noir and Winemaker Claudio Radenti
– Friday 2 May – On the way back to Hobart stop by Freycinet Vineyard with Claudio for a tasting of the complete range of these heralded East Coast wines. This special experience will then finish in Hobart at 6:30pm.
Terms and Conditions Apply.
All the standard inclusions of the Freycinet Experience Walk apply, including wines and food plus a day trip to Domaine A, MONA and Moorilla with a ferry trip back to Hobart.
Subject to availability. Minimum of six people. View the cancellation policy and full terms and conditions here. 
Freecall 1800 506 003 to book this special Freycinet Experience Walk offer today.